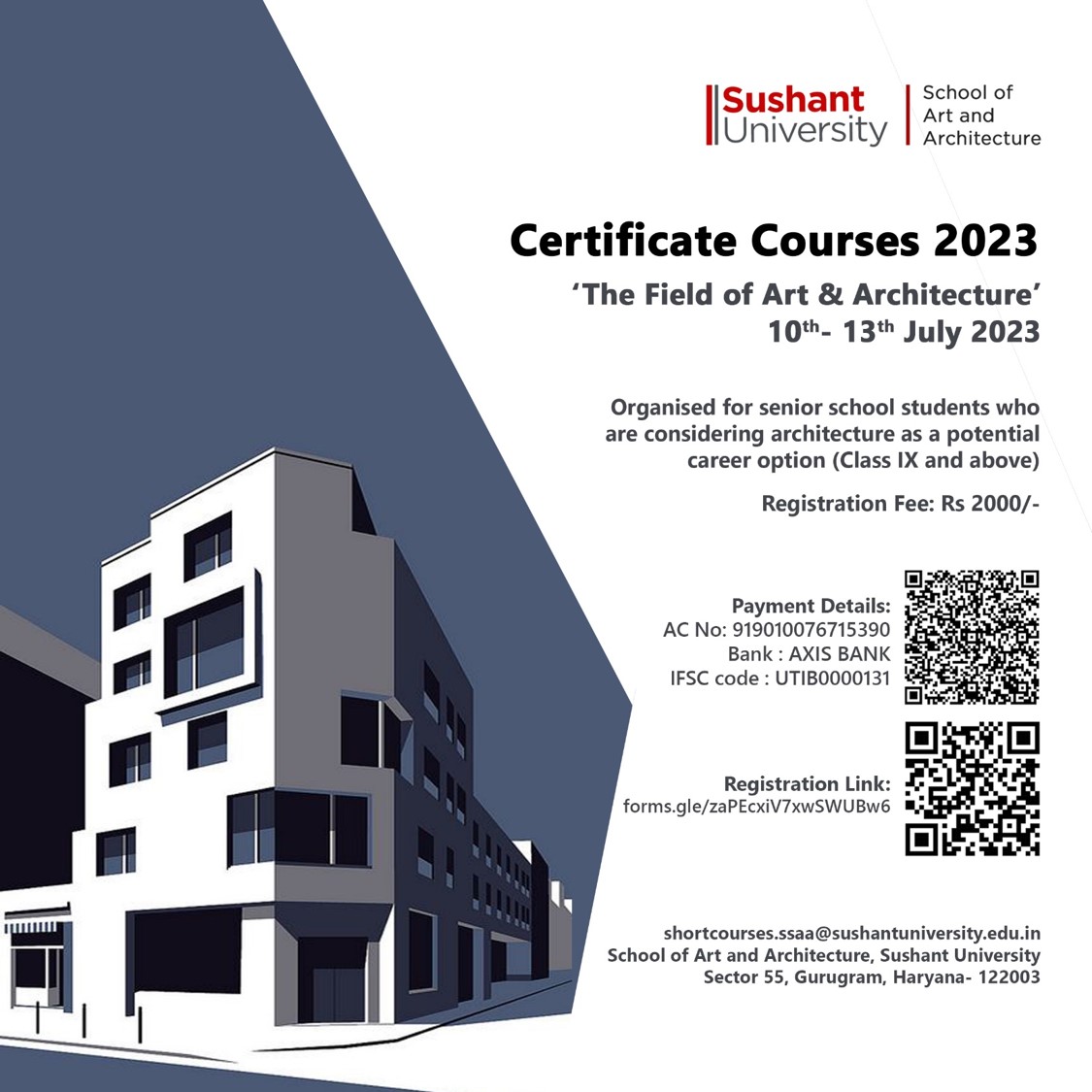 The Field of Art & Architectural
Greetings from the day!
I am happy to share that the School of Art & Architecture is offering a four-day Certificate course namely "Field of Art and Architecture" from 10- 13th July 2023. The course is exclusively curated for middle and high school students considering architecture as a potential career option. It takes the student through a journey that begins with the conceptualisation of space and ends with a developed physical architectural form. This course will give them an insight into how an architect or a designer critically thinks. The course includes a day-long interaction with established and renowned architects of our prestigious 30-year-old architectural institute at their architectural studio
The course is divided into four modules which will be delivered by our Faculty members from 10 am to 4 pm each day.
MODULE A
DESIGN - PRINCIPLES AND CONCEPTUALIZATION
The student is introduced to principles of design that one can apply through multiple forms of two and three-dimensional media. The interactive sessions on this day enable the participants to learn the design principles through hands-on model-making exercises thus allowing building on as well as enhanced critical thinking among the participants.
MODULE B
SOFTWARE – 2D AND 3D VISUALISATION
Day two will be focused on generating awareness of the prevalent software being used in the architecture world, followed by learning and application of some software skills.
MODULE C
STRUCTURE - HOW BUILDINGS STAND
Architects play with spaces. These spaces create a volume that is enclosed and built through structural elements like columns, beams, trusses and slabs. These elements have to be arranged in specific ways to form systems that are efficient, strong, stable and economical to build, using various materials. All materials behave differently due to their mechanical properties. Is the behaviour related to the stability of the structures? Why do structures stand up? Why do structures fall down? The third day will spark curiosity in the participant's mind about these aspects through interactive hands-on activities
MODULE D
PRACTICE - VISIT AN ARCHITECTURE STUDIO
The fourth day will enable the students to see how this process takes place in practice, through a visit to an architectural firm and/or a visit to a finished project. This will enable them to understand the translation of a concept into a building. Day four will culminate with the presentations of the participant's work and discussions on career prospects.
The registration link for the course is as follows:
https://forms.gle/h26xFGSf9hEh4mfKA
The registration fees for the certificate course is Rs 2000/- per candidate for 04 days.
Payment link:
Account number - 919010076715390
Bank : AXIS BANK
Branch name : DLF city
IFSC code : UTIB0000131
Stationery and lunch will be provided by the school for all four days.
For any further questions please reach out to us on shortcourses.ssaa@sushantuniversity.edu.in.
Thank you.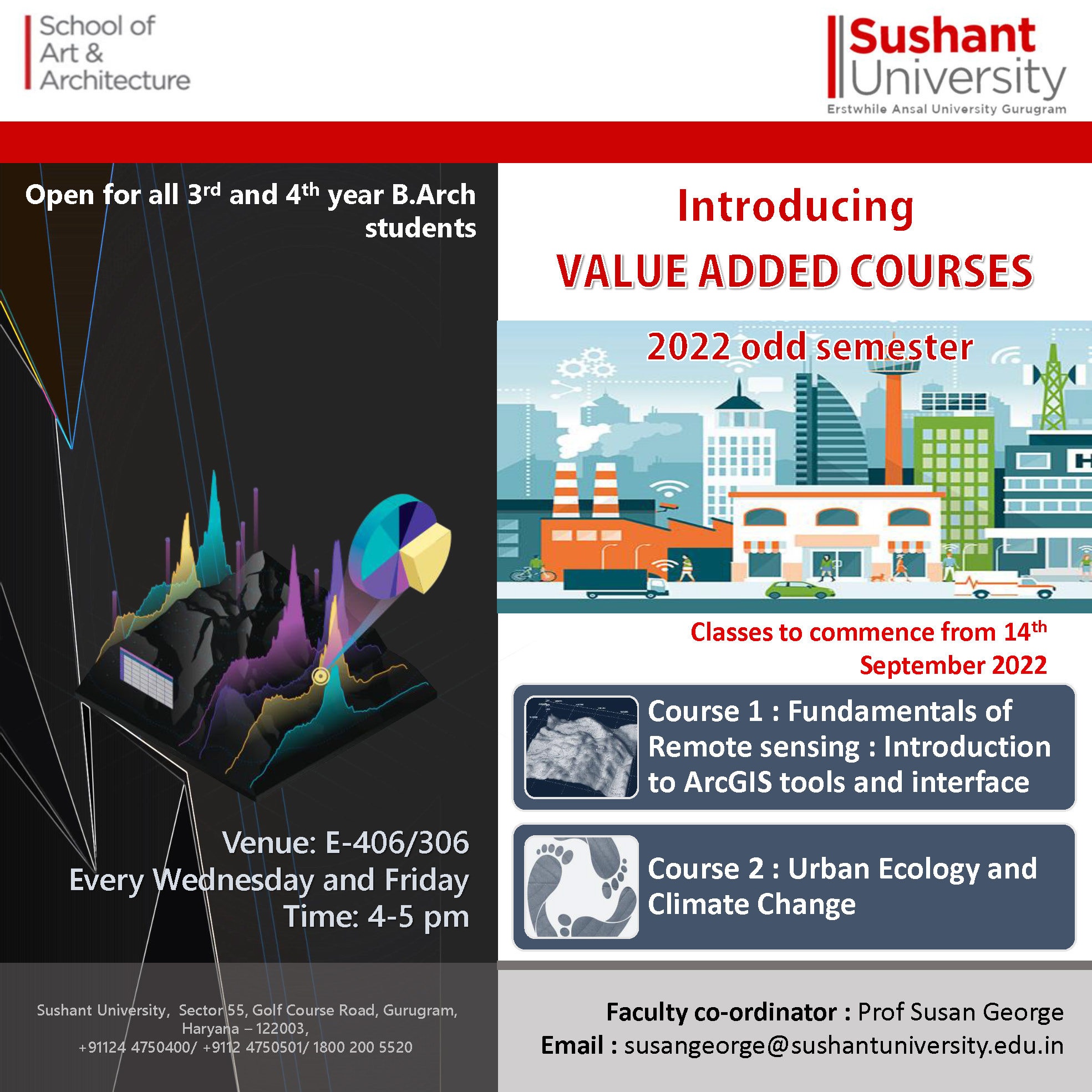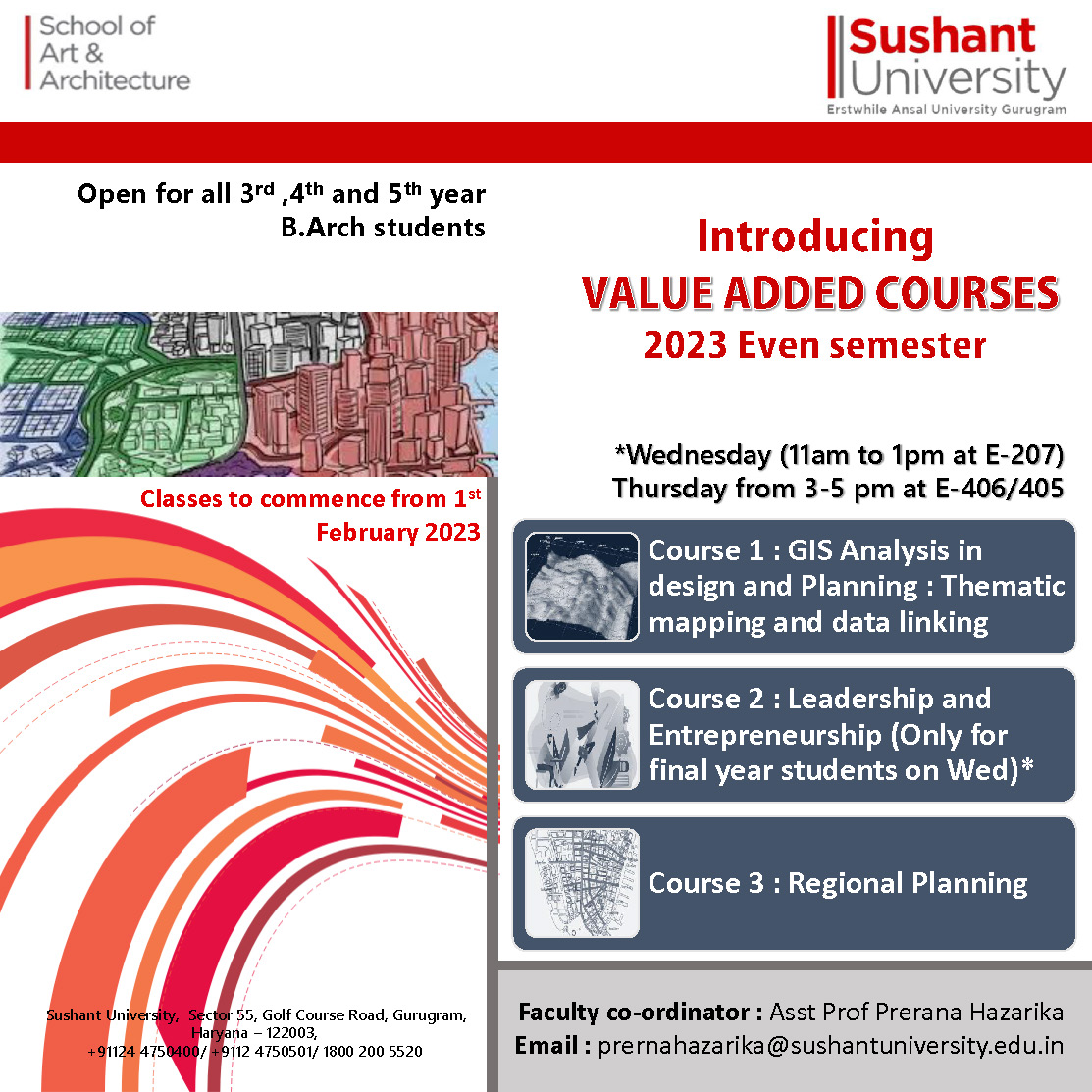 Activity-Report-VAC-2022-2023.pdf
Upcoming Summer Certificate Courses 2021: School of Art & Architecture, Sushant University
Eligibility: Class X and above with an interest in art, architecture & building sciences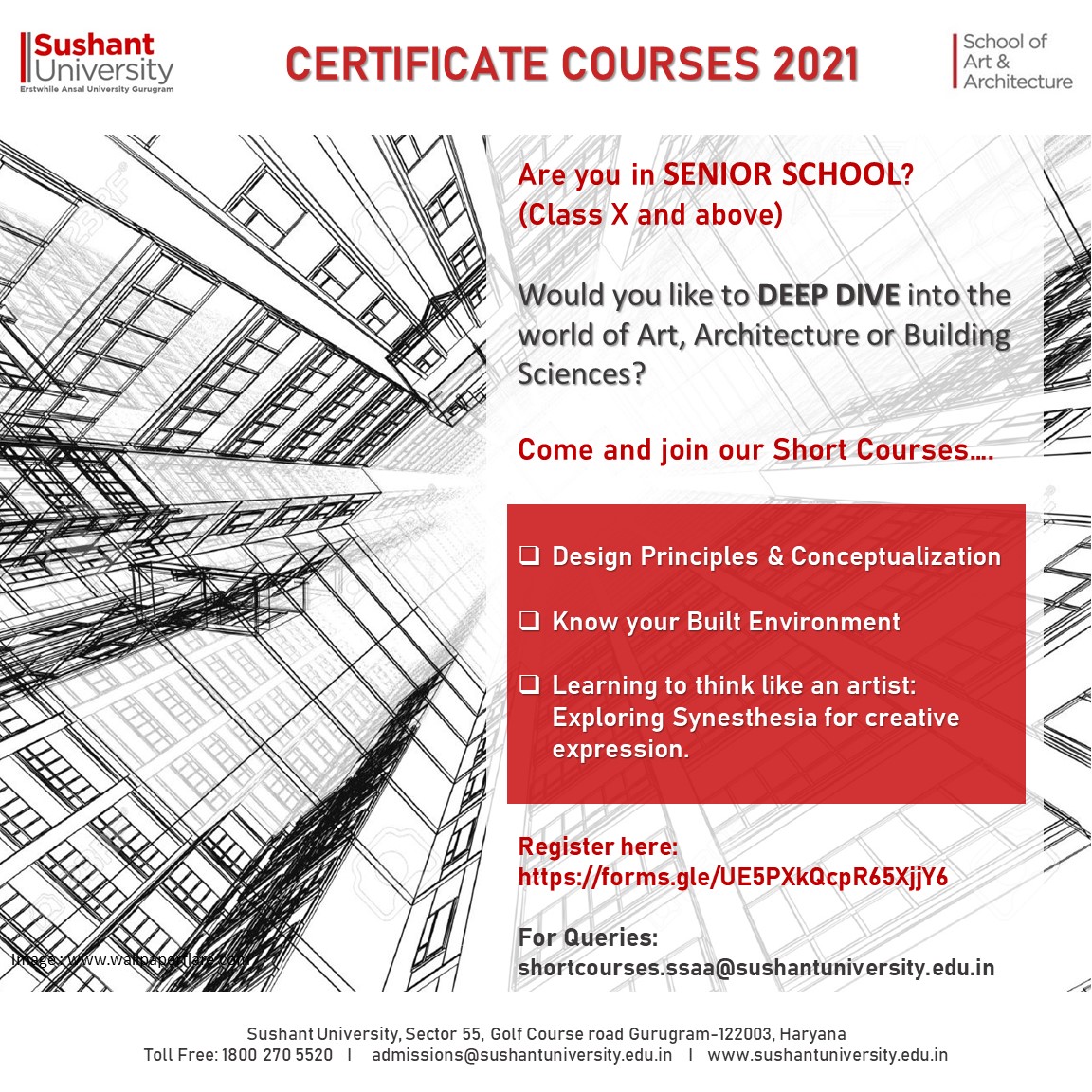 Eligibility: M.Arch aspirants holding a B.Arch Degree, architecture & design professionals, Current students of M.Arch, M. Plan, M. Des, SAA alumni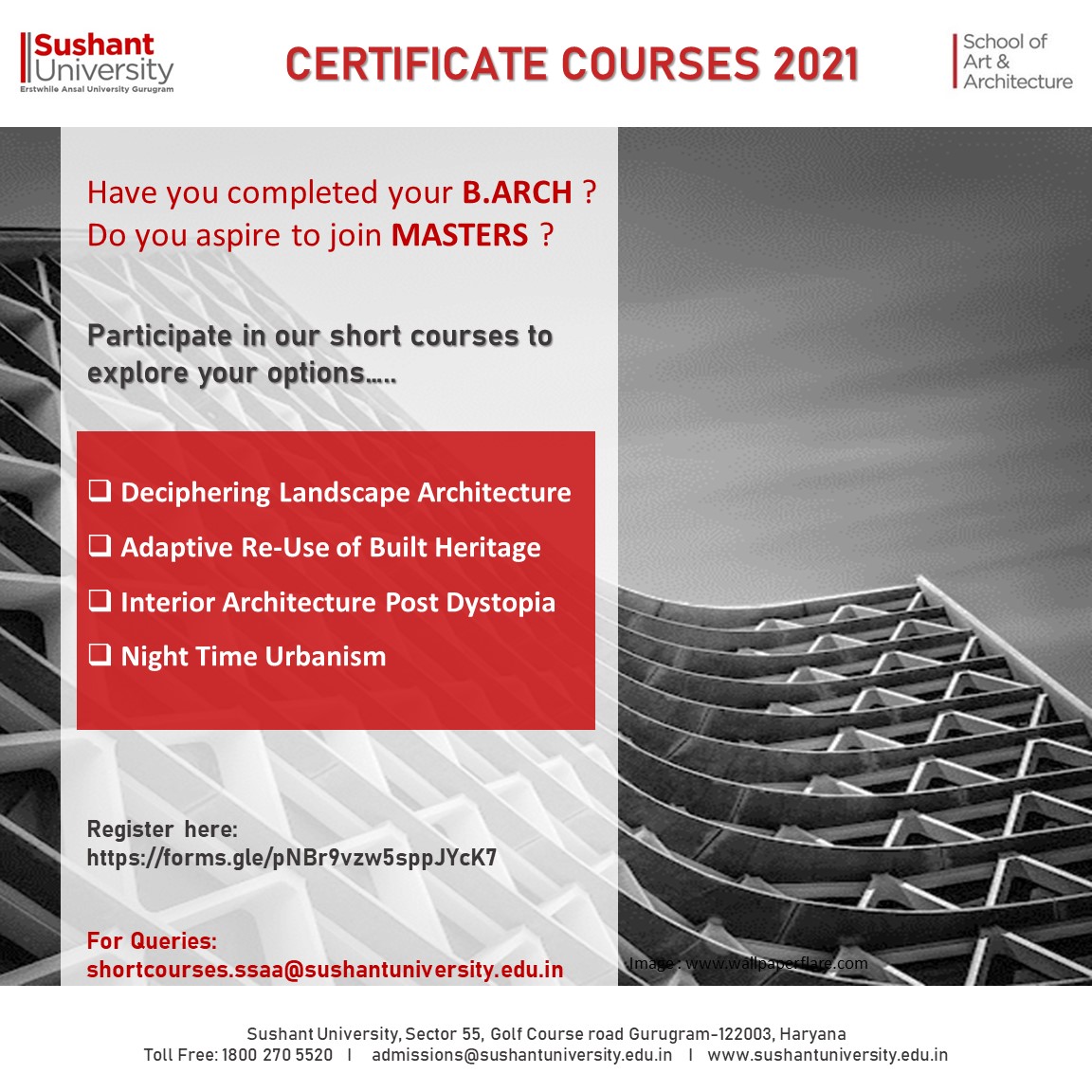 /* */?>