Sushant University partners with Lucideus to launch a four-year B.Tech programme in Cyber Security
Industry and Academia have always been at loggerheads with the kind of curriculum that has been taught to students versus the actual requirement when one passes out of the academic institutions. Sensing this as a challenge, Sushant University comes together with the leader in cyber security services in India, Lucideus. Jointly we have produced a curriculum that potentially answers the industry requirements that students need to be groomed and trained in order to kick-start their career in the domain of cyber security. According to the latest report by Intel Security in partnership with the CSIS, the global cyber-security workforce will have over 1 million job vacancies by 2019.Increase in Cybersecurity crimes on both individuals and businesses accentuate the need for IT security professionals. BTech in Cyber Security will prepare students for an exciting career in the domain. Some of the career options that will open up for students are - Chief Information Security Officer, Cyber Intelligence Analyst, Cyber Risk Analyst, Cyber Security Expert and many more.

Saket Modi, Co founder and CEO of Lucideus said, "This is the ideal time when we partner with an academic institution to go ahead and launch a course in cyber security because it is something that is answering the need of both - the present and the future. Not only that, we today sense while serving a lot of very large Indian companies that the demand and supply are absolutely disconnected."
Dr. Raj Singh, Vice Chancellor of Sushant University while inaugurating the event said, "Cybersecurity market is expected to grow from $75 billion in 2015 to $170 billion by 2020. Sushant University aims at training young minds to get a deep knowledge of the changing needs and demands of the IT industry."
Sushant University signs an MOU with University of West England - Bristol, UK for collaborative projects in the fields of engineering , robotics and design
We are about to enter an era where Robotics and AI led environment would take over soon, to revolutionize the global business processes around the world.
Sushant University signed an MOU recently with University of West England - Bristol for collaborative projects in the fields of engineering, robotics and design. This partnership will focus in making strategic financial and manpower investments that will enable us to keep abreast of technology and advance rapidly in areas of utmost need.
This partnership was done after an extensive evaluation to identify the knowledge gaps in robotics, engineering and design education. The decision to formalise this partnership through this MOU will enable both the institutes to share strong strategic synergies together. With ever changing technologies, our education system is sure to see an unprecedented paradigm shift in learning! It's exhilarating to see what these scenarios will unfold and how they are going to change with time and technology. It's time to be future ready and to stay ahead for life!
Arts University Bournemouth has collaborated with Sushant School of Design, launching a specialised development programme in Design & Arts
Sushant School of Design, Sushant University, Gurgaon; has entered into a Unique Collaboration of Academic Enhancement with the Arts University Bournemouth, UK.
Arts University Bournemouth is one of the premier design education institution of UK. In 2017, awarded with the prestigious Queen's Anniversary Award for Excellence in Design Education as well as Teaching Excellence Framework, Gold Standard.
This collaboration provides an exciting and special opportunity for Sushant University students to benefit from Arts University Bournemouth's world-leading academic expertise. They will have valuable exposure to student's life in the UK.
With this unique, ground-breaking association between our two institutions, all students enrolling onto the B. Des courses at Sushant School of Design, Sushant University will attend the programme as a required mandatory component of their degree. This will be delivered in the UK on the beautiful Arts University Bournemouth campus set against Bournemouth's spectacular Jurassic coastline.
Future of Vision Sciences :Sushant University School of Health Sciences Launches Graduation and Post-graduation in Optometry
Optometry is a primary health care profession that is concerned especially with examining and treatment of the eye for defects and faults of refraction with prescribing correction lenses, contact lenses eye therapies and visual rehabilitation.
The profession has an immense scope and country needs near 1 lakh optometrist compared to 10,000 qualified available so far. Their job roles are in Private practice, corporate sectors, optical store, public health, corporate sector, academic and research. The education shall be both theoretical and clinical. The Programs are run in strategic collaboration with hospitals in various programs. The focus is on industry integrated program which shall have unique centers of excellence in various fields of Optometry and Vision Science. These centers shall be in the field of low vision, contact lens, Myopia control lenses, spectacle dispensing, vision therapy, ocular prosthesis and many more to follow. The campus clinics shall have access to the public for an eye examination and other specialties too.
The curriculum is adapted from the Ministry of Health and family welfare with a well recommended curriculum and thus prepares the students for future regulations. Faculty with immense academic and clinical experience is the strength of this program. The other area of thrust that shall be developed is research in the field of Vision Sciences. There shall be an eye care service for the underprivileged and this is our way of giving back to the community as a service to the nation.
Dr. Raj Singh joins as Vice Chancellor

Sushant university under the aegis of Dr.Raj Singh is set to move on with the core ideology of being future directed and competitive, in tune with the mission "AHEAD. FOR LIFE". As shared by Dr. Singh, the strength lies in taking advantage of the ecosystem and incorporating the best from the academia, industry & research.
The university gets the advantage of not only being in the midst of a large number of national and international corporations but also being in one of the most vibrant start-up hubs of the country. The students, teachers and staff, he firmly believes, are the three prominent pillars of the university and building teamwork, sharing a common vision and working together are the key words that make the university unique and a class apart.
With the rich experience in academia & industry alike, Dr. Singh strongly believes sustainable growth today lies in building and holding on to competencies beyond replication and performance beyond expectations. In tune with the ideologies the curriculum design is guided by inter and trans-disciplinary approach incorporating pedagogies that expand learning opportunities and ensure achieving higher order learning outcomes.
Sushant University's Team performs excellently at NCU's National Moot Court Competition

Sushant University's team comprising Mr. Mayank Jain, Ms. Tanya Gupta and Mr. Tarun Kumar participated in Northcap University's 5th National Moot Court Competition on 14-15 April 2018 and reached the quarterfinals after receiving the highest score in the Preliminary Rounds. Mayank Jain was adjudged the Best Speaker and was awarded a cash prize of Rs. 10,000 and Tarun Kumar, was ranked second. We acknowledge Ms. Tanya Gupta (Researcher) who was instrumental in providing the team with thorough research, thereby acting as a backbone.
Mera Gurugram Smart Gurugram
The Post Graduate Students from Sushant School of Art and Architecture, Sushant University, worked towards creating a vision for smart city Gurugram with a public outreach approach. In successful public meetings organized in October 2017, residents brought local knowledge and experience of the place which was absorbed by our students.
They presented their vision for Smart City Gurugram on December 15, 2017, 2pm at the SSAA campus. Proposals included initiatives for the five areas of Old Gurgaon, Civic Center, Jharsa Village transit oriented development, City Center/ Sector-29, and Sikanderpur/MG Road. The presentation was accompanied by an exhibition and panel discussion.

100 Day Challenge to Save the Badshahpur Bawdi
Sushant School of Art & Architecture launched a 100 Day Challenge to Save the Badshahpur Bawdi in Sector 67, Gurugram from being destroyed due to urban development on 18 January 2018.

SSAA's association with the Bawdi came into existence in the year 2016, when Parul Munjal, Associate Professor at SSAA, visited the site as a part of her doctoral research and discovered the deteriorating condition of the Bawdi.
"It had become a garbage dump with its western edge used for open defecation by squatters settled next to it. Even the low parapet of the circular well wasn't spared. People around mentioned that a road was going to be built over the Bawdi and that the days of the existence of Bawdi were numbered", she said.
Day one was marked by a visit to the site by SSAA faculty and students of B Arch and Built Heritage programme, who took the challenge as a part of their studio projects. The Bawdi was being filled with earth for road construction on the very day, which was brought to the notice of the authorities, resulting in stopping any more earth filling. On Day 20, American journalist and author Victoria Lautman spoke about the challenges faced by stepwells in India at SSAA and pledged her support towards the 100 Day Campaign to Save the Bawdi. Team SSAA installed a 15 foot tall banner about the Bawdi on site and interacted with the students of Primary Girls' Govt School adjacent to the monument on Day 40. The interaction was extremely encouraging as the students enthusiastically pledged to help in cleaning the Bawdi and maintaining it.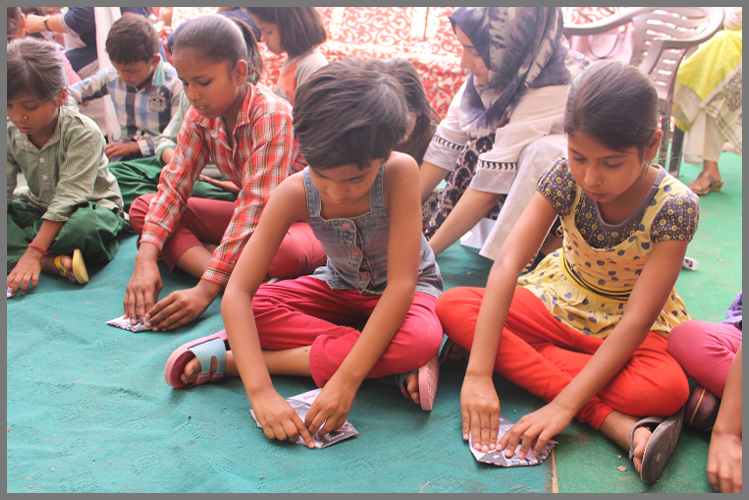 SSAA had ideated and developed a paper folding game -Bilingual Tippy tippy tap to disseminate and generate awareness towards saving and healing this intergenerational heritage structure by Day 80, that was launched at Badshahpur Bawdi on Day 91. This was also the World Heritage Day, hence ICOMOS India partnered with SSAA in the celebration, and collaboratively mobilized participation from old and young generations of the community. The activities also included sharing of memories of this heritage structure by the older generation and drawing and writing about a vision for the future by the young children. In the process, SSAA was awarded a felicitation from ICOMOS India in recognition of the initiative to Save the Bawdi!
International Internships and training opportunities

International standards cannot be neglected in this globalized industry. An incessant exposure to the global best hotel is a paramount requirement for the effective education in Hospitality. With a mission of providing world-class hospitality education, School of Hospitality Management, Gurgaon have incorporated these aspects in detail and students are sent for an internship to hotels of repute across the world in a regular mode. School provides students the opportunity of honing an international outlook through the Marcopolo students –exchange programme and host of summer and winter internships across the world. These exposures are important as they give the students a perspective of hospitality from the international level. Such opportunities help in improving their horizon and in understanding the people, culture & tradition, language and country beside learning.
It is this time of the year again when the 1st year students of School of Hospitality Management at Sushant University are gearing up for their summer internship in France and will undergo a 6 weeks internship in Vatel Hotel. The internship module will be commencing from 4 June 2018.
Students of second-year are under internship for 22 weeks in reputed star category deluxe hotels in France, Mauritius, Dubai, Bahrain, Thailand under the close supervision of the trainers. Apart from learning hospitality, they are being trained in other operational areas of Hotel. Mainly in Front Office, Food & Beverage Service, Food Production and Bakery & Patisserie.
School of Hotel Management is providing value based quality education in collaboration with Vatel International Business School, Hotel and Tourism Management (France).
Sushant University in Femina

Femina Stylista North is one of North India's biggest model hunts, hosted by Femina magazine. The contest consisted of four days of intense model training and sub contests at the Radisson Gurgaon groomed by the one of the best supermodel, Noyonika Chatterjee. Hosted and organised by Rajanigandha,Silver Pearls , Biba , Casio Sheen and Envy perfumes.
The Judges of the panel were supermodel Yami Gautam and designer Ranna Gill.
The finale was held at the Westin Gurgaon where all 16 finalists competed to be in the top three and Namrata Chandra, a student of Sushant School of Design, Sushant University was fortunate enough to win the position of first runner up (2nd place).
The three winners got the opportunity to be featured on the cover page of Femina magazine. The front cover was sponsored by Casio Sheen watches and Polaroid sunglasses and the back cover was sponsored by Biba clothing.
Reconnecting together to stay ahead …
Share your journey with us
You are an achiever already. So, let's begin with your story. Share with us your journey from Sushant University till your current accomplishment and inspire many more aspirants to influence their journey ahead!
What can you do?
Send in your suggestions of how we can re-connect with you better. All your thoughts can add great value and hone the roots of knowledge for the future alumni!
Send your views to us at : alumni@ansaluniversity.edu.in
Sushant University
Sector 55,Golf Course Road ,
Gurgaon-122003 (Haryana)
+91 124-4750400
+91 124-4750501
Toll free number
1800 200 5520