Employers consistently rank soft skills as the most important criterion when considering candidates for employment. Yet lack of soft skills has been cited as the most critical issue to be addressed for students across all disciplines. Soft skills are those personal attributes that enhance individual interactions, job performance and career prospects.
In an endeavour to remove the skills gaps and with the objective of creating market-ready professionals, Sushant University has embedded soft skills training within the academic curriculum, assigning it weekly classes, mandatory credits and compulsory evaluation for all the Schools across the campus, so as to prepare and empower the students for the professional field and personal life.
Going above and beyond, Sushant University has established a Centre for soft skills in January 2021 as the striking need of soft skills came to the fore more than ever before. The pandemic has challenged our resilience, our strength as humans and our ability to respond. To adapt well and respond swiftly, to enhance skills which are determinants of success today, Centre for soft skills designs and delivers training programs in the most enriching style with effective learning solutions.
In this competitive, uncertain and fast-moving business world, training in soft skills gives the cutting edge to excel and flourish. The key differentiator is not what work you do, but how you work. Strong soft skills ensure a productive, collaborative and healthy work environment.
Centre for soft skills comprises a team of ace professionals and experts who use experiential methodology, tools, techniques that ensure complete transfer of learning. The pedagogy adopted is a unique blend of classroom teaching along with interactive and engaging activities. This training module of Soft Skills has been devised after extensive research, industry feedback and professional experience of the Soft Skills team in a way that makes the learners achieve quick progress.
The students embark on a journey to know themselves better and enhance their confidence to face the professional challenges ahead.
The key focus areas of the trainings include:
Interpersonal skills
Goal Setting and Time Management
Personal grooming and professional Etiquettes
Communication and Presentation skills
Team Building
Adaptability
Overall personality development
By making soft skills training as a mandatory part of the curriculum, the University strives to enhance students' employability quotient, personal and professional success.
Centre for Soft Skills also conducts Faculty Development Programs for the different schools of Sushant University.
FDP for the school of Law on 'Creating synergy', 15 February 2021 and 'Enhancing well-being @work', 20 March 2021 for the school of engineering
FDP for School Of Business on "Together we can achieve more" on 26th March, 2021
Six thinking hats Brainstorming Competition
Centre for Soft Skills conducted "Six thinking hats Brainstorming Competition" on Friday, 16 April for BBA and B.com II-year students of School of Business. The competition consisted of two rounds. In the first round both the teams brainstormed creative ideas on the advertisement of the product. In the second-round marketing campaign ideas were discussed within the respective teams. Team BBA was declared winner of the competition. Both the teams participated enthusiastically. The competition was judged by Prof. Milind, Dean School of Business and Dr. Shaily Bhashanjali, Head, Centre for Soft Skills. The event was in online mode and was organized by Dr. Indu Prabha Pathak.
Six Thinking hats technique by Edward De Bono is an effective technique of problem solving and parallel thinking. Each hat is assigned a different colour and a different thinking approach. It helps individuals as well as groups in making cohesive, effective decision making and encourages innovative solutions from different perspectives.
Centre For Soft Skills team
Dr. Indu Prabha Pathak is Ph.D. in English from Banashali Vidyapith with over 10 years of academic experience. She has authored a book on Thomas Hardy's Philosophical influences in Poetry. She is an avid researcher and has more than 25 papers published to her credit in various international indexed journals and presented research papers at various conferences and seminars. She has successfully supervised two research scholars for the award of Ph.D. She has been a member of various review committees of International conferences and has been in editorial board in conference proceedings. She has organized many soft and life skills sessions and also organized many faculty development programs. She has completed certificate course in the teaching of English from prestigious English and Foreign Languages University, Hyderabad. She is both U.G.C N.E.T and Rajasthan S.L.E.T Professional. She has been a recipient of merit certificate under National Scholarship Scheme by Ministry of HRD Govt. of India and also merit certificate in graduation. She is also a member of English Language teaching association of India. She has been a member of the School research committee and in charge of Soft and Life skills. Her areas of interests include Soft Skills, Legal English and literature. She has passion for teaching and flair for research. Her interest lies in creative writing and poetry.
Sagarika Goswami
Assistant Professor
A visionary professional with more than 21 years of progressive experience augmented by a strong academic and professional background in Academics, Media, and Corporate, Sagarikahas done her Master's in Linguistics from Gauhati University, Post Graduate Diploma in Mass Communication and Journalism, with specialization in Broadcast media, from Cotton College, Gauhati. As a student of Linguistics, Sagarika is inclined towards psycholinguistics and this interest led her to be an NLP practitioner and EFT Certified. She is also a TESOL Certified professional with specialization in Leaning Disability.
Sagarika has worked with media, industry and academia. As a media professional she worked as a radio artist, documentary film maker, assistant director for serial, voice over artist, scriptwriter and has interviewed politicians and renowned personalities like Director JanhuBaruah. While working with the industry, she worked in different roles, as Business Development Manager, Learning and Development Manager, Centre Head, Content Developer, Knowledge Consultant in organizations like New Horizons and NIIT, New Delhi. As an academician, Ms. Goswami worked as the Head of English Department, Assistant Professor and Lecturer. She also works as a freelance Blog writer sharing her understanding on various topics.
In 2019, Sagarika was awarded and honoured for her excellence in teaching by an Association in Faridabad, Haryana. Other than teaching, Ms. Goswami encourages her students, on various projects. One of her Project 'NayaUjjala' 2010-2013, received International exposure and recognition by UNILIVER, USA, and the other Project' Kissan Ki Umang' 2013-2015 was Sponsored by Mahindra Group. She has been the convenor for International Conferences like TEDxitmu and TEDxgdgoenkauniversity, USIEF and American Society for Quality, ITM University Chapter. Ms. Goswami is also a public speaker and was awarded for her session with RYLA 2016 at Manav Rachna International University.
PUBLICATIONS AND PAPERS:
Published article titled "An Insight into Language"; issue related with value of language; published in Mélange a weekly magazine by Sentinel.
Published article titled "Beyond Bench And Bars"; issue related with law and social justice, published in Mélange a weekly magazine by Sentinel.
Paper presented on Phylogenesis - the origin and development of language in species, titled "Darwinising Language" in a workshop on Research methodology conducted at Central University, Tezpur, Assam.
Presented dissertation paper on "Newspaper Journalism In Assam" to Media And Communication Study Center, Cotton College, Assam.
DR SHAILY BHASHANJALY
Lead- Team
Dr. Shaily Bhashanjaly holds qualifications as a Doctorate in Sociology, Post Graduate Diploma in Management as well as a Post Graduate Diploma in Rural Development. For the past 20 years, Dr. Bhashanjaly has been a visiting faculty in colleges and universities on eclectic subjects such as sociology, organizational behaviour and employability skills etc. Dr. Bhashanjaly has been associated as a subject expert with Indira Gandhi National Open University (IGNOU) and has had her work published in the IGNOU course material. Dr. Bhashanjaly has written popular articles and educational material on topics ranging around gender, inclusiveness and community development. She was awarded a senior fellowship from the Ministry of Culture, Government of India, in 2018.
Apart from academia, as an experienced radio broadcaster with FM Rainbow, All India Radio since 2003, Dr. Bhashanjaly has hosted popular programs like Citylights, Helpline, Sandesh to Soldiers etc. She has also interviewed Honorable Union ministers of Railways, Commerce & Industry and Civil Aviation in her duties as a broadcaster, highlighting socio-economic concerns and civil society initiatives. She has done English commentary on All India Radio for national events such as World Food India 2017, Sardar Patel Run for Unity 2017, BSF Raising Day 2017, and Smart India Hackathon and Hindi Commentary on 'Antim yatra- Atal Bihari Vajpayee'
Dr. Bhashanjaly has been awarded the 1st World Women Award in recognition of her exemplary contributions. She also serves a Member on the Committee for Prevention of Sexual Harassment of Women at the All India Chess Federation (AICF).
Report on Panel Discussion
Centre for Soft Skills successfully conducted Virtual Panel Discussion on "Soft Skills for the New Work Place". Honourable vice chancellor graced the event as the esteemed speaker. Dr. Niva Bhandari Business communication faculty of MDI, Gurgaon and Mr. Virender Singh Chief Manager HR, Fortum were among the Panellists. Dr. Shaily Bhashanjaly and Dr. Indu Prabha Pathak convened the event. The discussion revolved around the emerging need of skill sets such as empathy, agility, and resilience to bounce back in the changed world. The work places are undergoing paradigm shifts and adapting to these changes have become more relevant than ever.
Pictures of the event are below: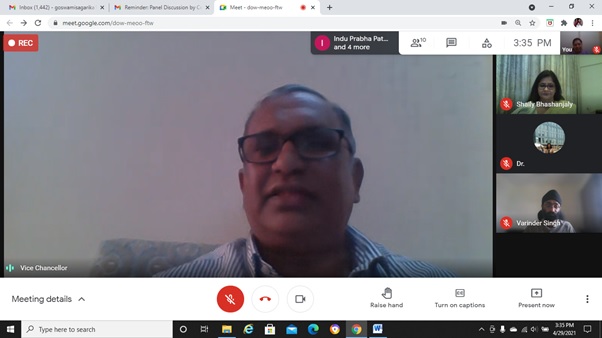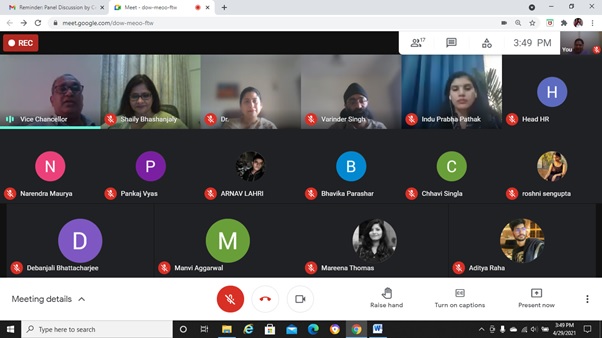 Online Certificate Programme by CSS
Centre for Soft Skills, Sushant University successfully conducted two day's Online Certificate Programme on "Personal Effectiveness at Workplace" for working professionals on 15 & 16 July 2021. The programme comprised of three sessions. Facilitators were Dr. Shaily Bhashanjaly, Dr. Indu Prabha Pathak and Ms. Sagarika Goswami. Dr. Indu Prabha Pathak convened the programme. The emphasis was laid on optimizing the resources to maximize competencies and honing skill sets. Experiential learning methodology was used to promote a greater self-awareness, constructing a personal action plan for effective and sustained impact in multiple areas of life, ability to manage time, influence others, or simply communicate with the right people in the right way, steer with goal focused mindset and be personally empowered with a renewed sense of joy and enthusiasm.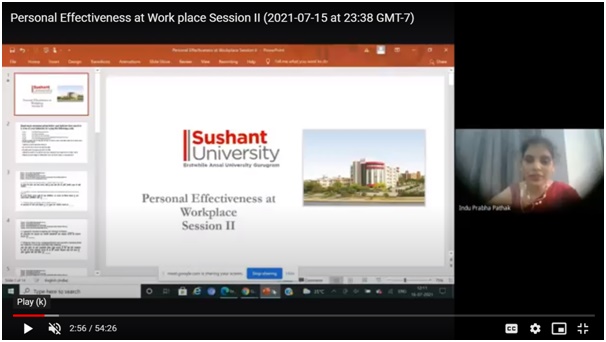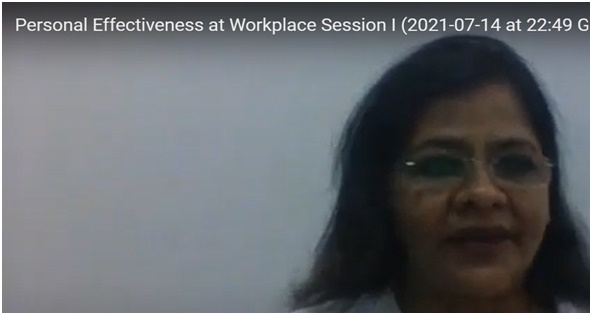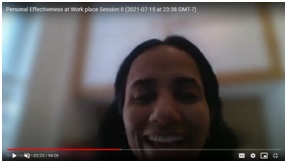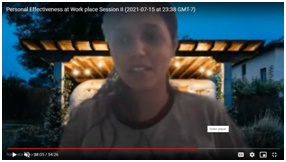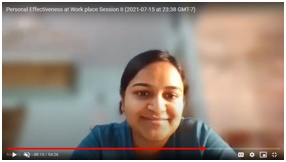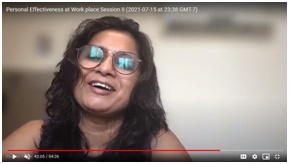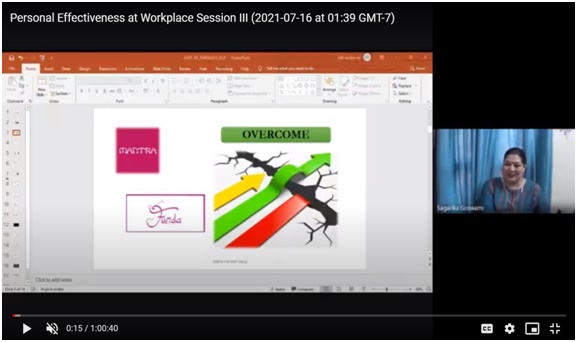 Report on Webinar " Wellbeing in Life and @ Work"
Centre for Soft Skills Successfully conducted webinar on "Wellbeing in Life and @ Work" on Friday, July 30, 2021. The external resource person was Mr. Kanishk Gaur who highlighted the importance of mental, emotional and digital wellbeing, emphasising the practice of positive online engagement. The session was highly informative and interactive in nature. The webinar was convened and moderated by Dr. Indu Prabha Pathak.