About CRC
Sushant University - Corporate Resource Center (CRC) is dedicated to partnering with the corporate, various industrial associations, with an objective to help the students understand the organizations and their requirements as well as prepare the students not only for their first job but also for a lifetime. Reputed Corporate are approaching Sushant University to recruit students. Our students are highly valued and appreciated by India's best corporate.
Due to the highly specialized industry integrated curriculum, our students are well equipped to face the competitive environment. Hence more and more companies are showing faith in our students. Sushant University is known for its academic excellence, research contributions and industry interface. Our major strength lies in a strong team of highly qualified and experienced faculty, quality students and dedicated staff. As today business organizations need young and dynamic personnel equipped with managerial & technological skills and vision. To cater to the need, latest technologies have been employed for effective lecture delivery and the current emphasizes theory & case study based orientation.
Beside that we have taken some effective steps which include restructuring the course curriculum, offering new and contemporary elective courses, introducing online learning and teaching, upgrading state of the art IT infrastructure and modernizing the library. We groom our student's right from the beginning and strategically planned tim e tables for all years. In the first year we focus on communication skills of students. In second & third year we groom them technically and in final year we provide them the finishing touch through special technical and PDP programs. These specially designed classes are our strength which gives our students an upper edge in all on-campus and off-campus test and interviews.
We believe in "Inculcating Confidence through Knowledge" We instill critical thinking in our students and this makes the leaders of tomorrow self-reliant and lifelong learners. This approach has its obvious results as seen through the lens of student placements.
Sushant University grooms young & dynamic individuals to face the challenges in the competitive industry & the corporate world. The interdisciplinary Graduate & Post Graduate programme provides them both theoretical knowledge & practical insights to develop a holistic perspective on business realities. The practical inputs are given through rigorous field - Industrial Tours, Workshops, Seminars, Guest Lectures, Summer & Winter Projects, Case Study & Live Projects. The Soft Skills & Personality Development programmes help students to improve communication skills, build confidence & develop positive attitude, etc. Making them industry worthy and confident individuals.
I would like to thank all the corporate who have in recent past encouraged & respond to our Campus Placement Program. I especially thank the HR teams of all those companies who believed in Sushant University by placing our students in competitive positions with enviable packages. With you support & cooperation, we are confident to provide our students better opportunities for 2021 academic session too and will look forward to your visit for Campus Placements with the same excitement as was in the past.
Objective, Vision & Mission
Corporate Resource Center is an integral part of the University. It follows a Student Centric Approach to meet the expectations of the corporate world. The cell functions throughout the year towards expanding the institute's corporate reach and increase placement opportunities for the students.
Vision
• Equipping the students with relevant and conceptualized professional skill sets, mindset.
• Guide students to choose right career.
• To meet expectations of the corporate world.
• To assist the corporates in recruiting the most suitable students, and in an effort to develop a successful recruiting relationship.
• CRC endeavors to substantiate the career dreams of students by equating them to industrial parameters and in the process to provide holistic individuals to the corporate sector and the society.
Mission
Being an internationally acclaimed University, Sushant University is recognized for excellence in teaching, research and outreach; provide the highest quality education to students, nurture their talent, promote intellectual growth and shape their personal development; remain dedicated and steadfast in the pursuit of truth aligned with the requirements of the corporate world.
To create a transformative educational experience for students focused on deep disciplinary knowledge; problem solving; leadership, communication, ethics and i<
Scope of work:
• CRC to be the industry academia interface of AU
• Final Placement of the students (Domestic & International)
• Summer Internship of the Students
• Arranging Live Projects
• Arranging Industry Visits
• Conducting Guest Lectures
• Industry Collaborations
• Counselling of the students
Placement Process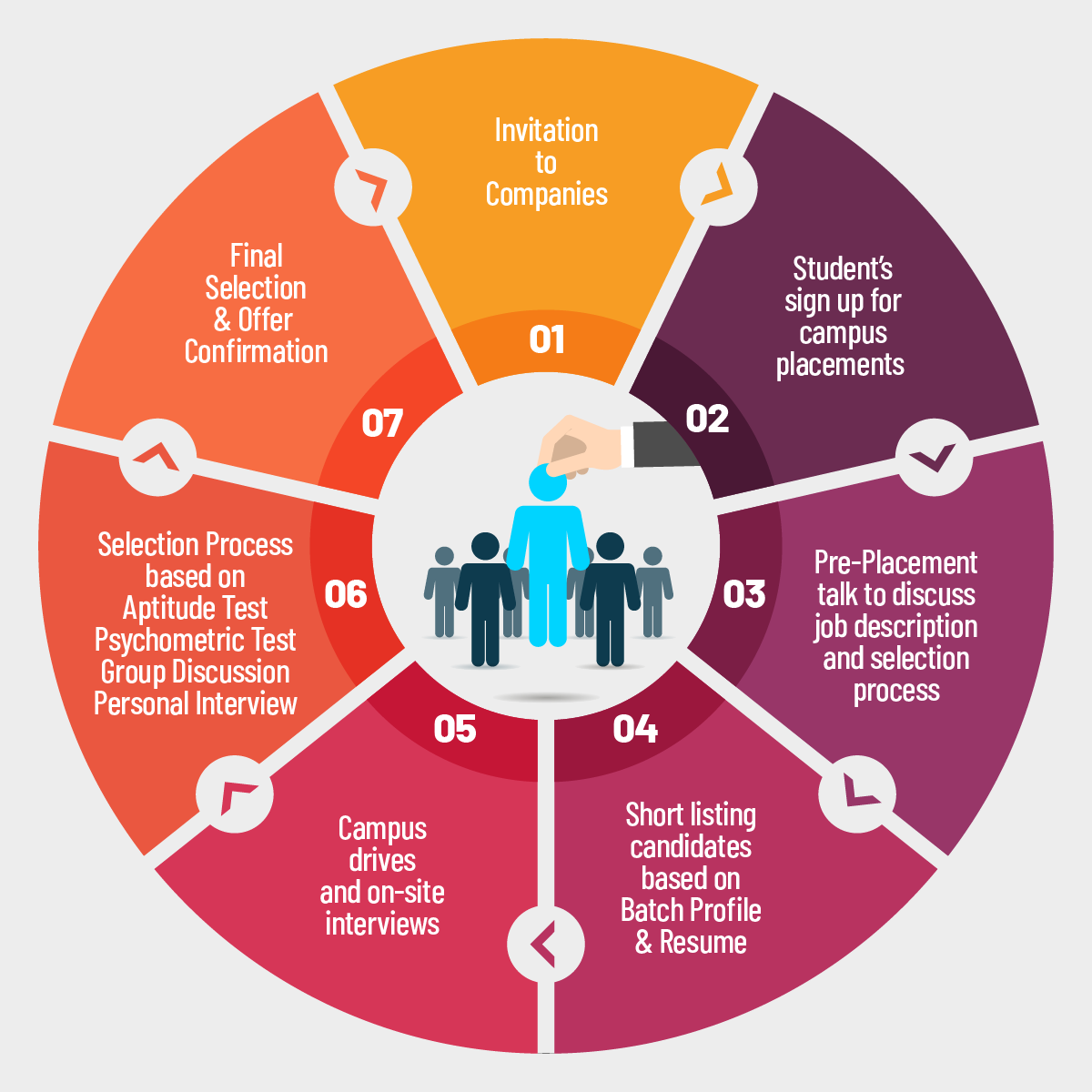 Final Placement
Final Placement is an important activity for the Institution and all the processes are aligned in its accordance. Keeping in mind the existing and expected job opportunities, we plan to provide placement services to our students. For effective placements, we establish close ties with the companies, which are in the process of providing jobs to our students. The CRC keeps itself in continuous touch with the Corporate World and especially the recruiter organizations for this.
Summer Internship
Each student is expected to undertake summer training in companies of repute for the duration of 6-8 weeks, as part of the course curriculum. Students are required to work on projects either given to them by the organization or selected by students themselves. Post completion of the Projects or the Internships, the students are supposed to prepare a Report. This report preparation itself is a full-fledged learning exercise in the application of theoretical concepts into practical situations.