Events 2023 Mud Futures 2021-2022 Apply For Admission E-BROCHURE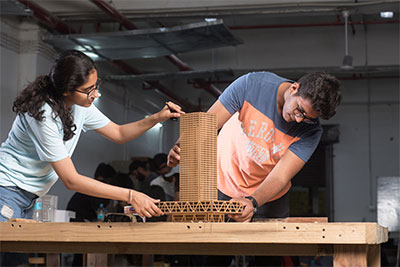 Top Architecture College in India
About SAA
Established in 1989 by Chiranjiv charitable trust, an organisation devoted to the cause of education. Over the last 33 years, SAA has established itself as one of the top architectural institutes in the Indian subcontinent with renowned architects and engineers from National and International practices. SAA known for international collaborations with institutions and professionals; highly successful global Alumni who have worked on prestigious global projects; and an emphasis on professional skills, liberal thinking and ethical values; has a long standing tradition of using new design pedagogy and emerging technologies. On September 1st, 2022 we celebrate the centenary birth anniversary of our beloved founder Professor M.M. Rana.
Placement and Internships
SAA provides students with training based on current opportunities in collaboration with several industry giants. SAA career development cell has signed MOU with a curated list of international companies and works towards preparing students for the placement session long before it begins. SAA placement process begins by inviting employers to visit the campus to participate in the campus placement process. Pre-placement interviews, during campus drives are highly successful as we position the applicants with aptitude tests and other steps of the placement process. SAA is known to be very successful in placement of a large percentage of our graduates.
Alumni Associations
A link between the alumni, staff and students of the University enabling participation in activities which would contribute to the development of scientific and technological developments
of national importance taken up by their alma mater. Our global network extends opportunities related to jobs, internships and campus placements through the establishment of a common platform where students can seek mentorship from the graduates of their respective departments.
Institutional affiliations for Creative Cluster
Sushant University is a private University that came into existence under the Haryana Private Universities Act 2006 and is recognized by the University Grants Commission(UGC), a statutory body of the Government of India. Research & Development (R & D) Centre of Sushant University fosters several interdisciplinary research collaborations with SU schools as well as institutions overseas.
History
Established as the flagship higher education institute of the Chiranjiv Charitable trust in 1989, School of Art and Architecture has positioned itself as one of the Best Architecture Colleges in India. SAA has been offering a five-year undergraduate degree in Architecture and varied two-years M.Arch programmes. The school is recognized by the Council of Architecture (COA) and University Grant Commission (UGC).
Through the alumni and faculty networks, the schools have cultivated associations with several international universities. International relationships ensure that SAA commands its respected status within the global design community. We aspire to be amongst the world's most advanced architecture and planning institutes known for their stimulating, innovative and outstanding learning environment. Here, best faculty apply innovative pedagogical techniques and encourage young minds to explore the frontiers of research, creating knowledge that will equip them for the challenges of our collective future. Unlike other Architecture Colleges in Delhi, Sushant University offers new programmes to be introduced with the intention of filling gaps that are perceived in the architecture industry.
The school is also running summer / winter school programmes to educate school-goers about architecture and planning. SAA has strong association with institutions such as the American Institute of Indian Studie (AIIS), Indian Institute of Remote Sensing (IIRS), International Council on Monuments and Sites (ICOMOS), Indian Green Building Council (IGBC), Indian National Trust for Art and Cultural Heritage (INTACH) to facilitate exchange of resources and expertise.
Vision
Innovation in education; International Positioning Socially relevant education in architecture. With an aim to make and teach architects who are sensitive, have a strong work ethic, are articulate and confident, and contribute positively to the society, the pedagogic and research emphases of the School include: 'heritage', 'sustainability' and 'art and aesthetics' and 'hands-on learning'.
Upgrading skills of research in the country; developing intensive faculty training programmes to upgrade pedagogic output; Upgrading infrastructure with state-of-the-art studios and workshops housed in a new environment-friendly building; Expanding our library with an online database of books, references, national & international periodicals and journals are some critical steps for the way ahead that the school has heavily invested in.
The schools are in the process of positioning themselves as resource centres in the region, providing capacity building and training opportunities for professionals in the field. Through these endeavours, we envision SAA to become the think tanks of innovative disciplinary discourses that offer best Architecture Courses in India and are ethical, responsible, inclusive, socially effective, global yet rooted within our context.
Programmes Offered
Bachelors of Architecture
A 5- year undergraduate programme offered by School of Art and Architecture which is one of the renowned institutes in India and worldwide, offering architecture education which is innovative, forward looking and competitive with global standards. Since 1989, when the school was established we have 1500+ graduates who are leading professionals in architecture, planning, design, and other associated fields.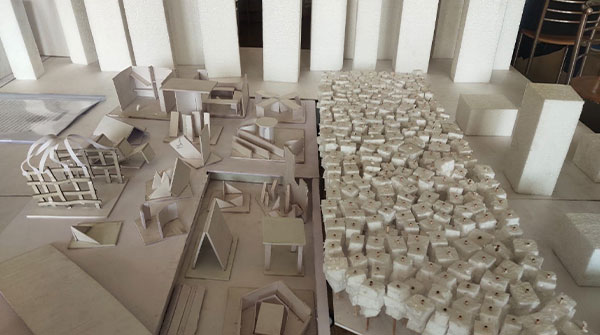 Bachelors of Fine Arts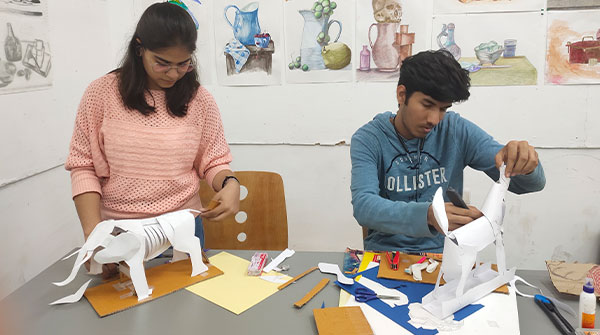 A 4- year undergraduate programme with specializations in Painting and Applied Arts, training students in traditional techniques as well as latest technology, tools and methods of creative expression.
Master's in Interior Architecture
A 2- year postgraduate programme facilitating entrepreneurship by critically engaging with space and the human experience, at various scales - interior, architectural and urban.
Master's in Landscape Architecture
A 2- year postgraduate programme having a multidisciplinary approach, applying the principles and techniques of landscape architecture at site, neighborhood, regional and urban level in order to design inclusive outdoor spaces.
Masters of Architecture (Urban Design)
A 2- Year postgraduate programme seeks to transform critical thinking through new paradigms of research, practice and pedagogy, in order to meet the new challenges of urbanization with a focus on post covid context, sustainability, climate change and culture.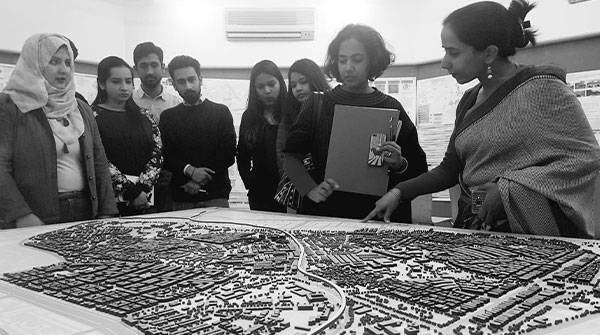 Master's in Architectural Heritage Conservation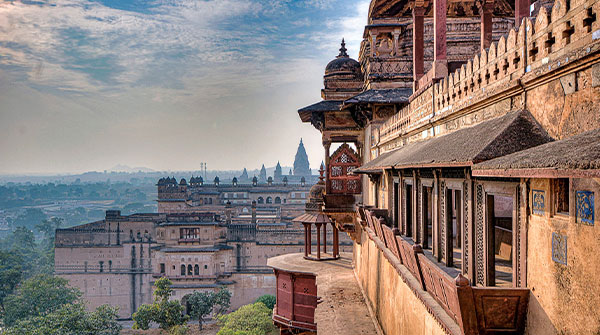 A 2- year postgraduate degree programme having an interdisciplinary approach, applying the traditional knowledge systems, community engagement and sustainable approach in order to preserve architectural heritage of India.
PhD in Architecture
A terminal research degree leading to PhD in Architecture in specialized areas of architecture professional core, building professional core, building services, pedagogy, traditional building knowledge, architectural conservation, environmental control, urban design, interior design, design thinking, healthcare architecture, CAD & BIM and applied arts.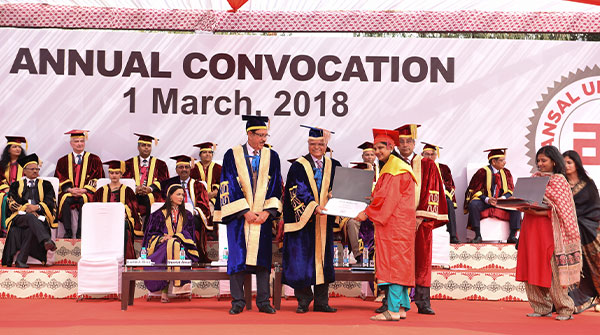 WHY CHOOSE SCHOOL OF ART & ARCHITECTURE?
Let your creativity blossom at an award-winning institute with an unparalleled legacy of excellence spanning over 30 years. We are a world renowned architecture institute offering a stimulating, innovative and progressive learning environment in a fast pace millennial city of Gurugram.
80+ Diverse faculty

Multi - cultural Campus Life

World Class Infrastructure

Practical Exposure

Placement Networking

Industry Connect

Research-led Teaching

Academic Leadership

30+ Years Legacy

1400+ Alumni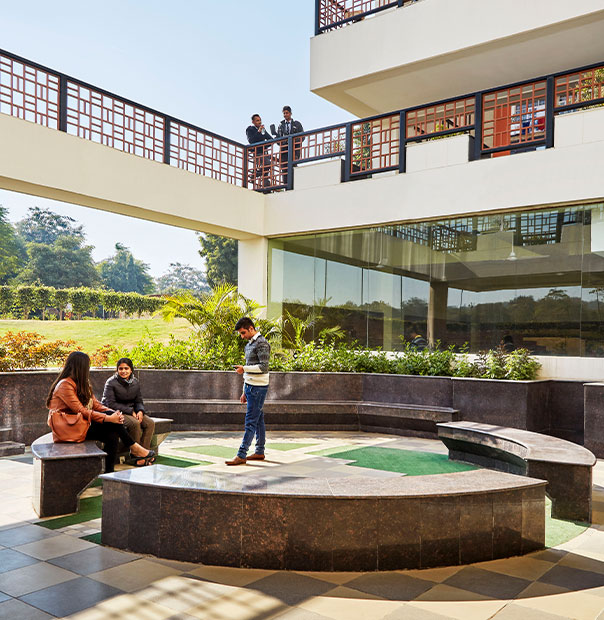 Academic Collaborations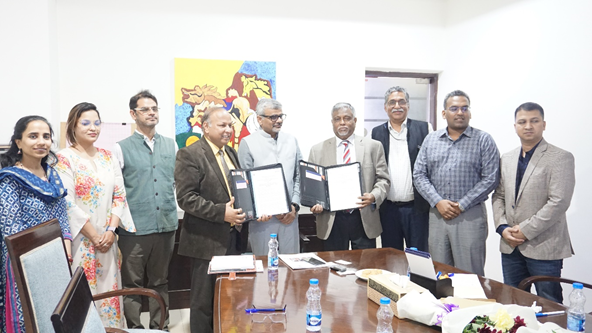 Over the years, the academic collaborations of SAA with academic institutions across the globe has resulted in a truly international approach to teaching-learning. Some of the key academic partners include: University of Westminster (UK); RVS Chennai Padmavathy School of Architecture and so forth..
Institutional Memberships
SAA has strong association with the following institutions facilitating a constructive exchange of knowledge, expertise and resources:
American Institute of Indian Studies (AIIS)
International Council on Monuments and Sites (ICOMOS)
Indian National Trust for Art and Cultural Heritage (INTACH)
The Institute of Indian Interior Designers (IIID)
Previous Affiliations
Indian Institute of Remote Sensing (IIRS)
Indian Green Building Council (IGBC)
Institute of Urban Designers (IUDI)
Indian Society of Landscape Architects (ISOLA)
THOUGHT LEADER IN GLOBAL ARCHITECTURE SPACE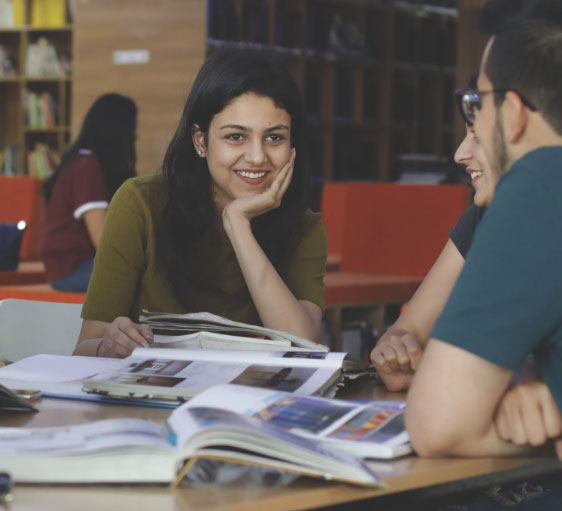 Sushant University, particularly the School of Art and Architecture, continues to dominate the global space in critical thinking, building practice, technical skills, cutting-edge research and professional advancement. SAA alumni and new architects are trained as forward-looking, culturally aware, environment sensitive, socially active and immensely creative professionals.
At SAA, you will imbibe all essential qualities and skills of an Architect with traditional values, contemporary sensibilities and futuristic vision.
AWARDS & RECOGNITION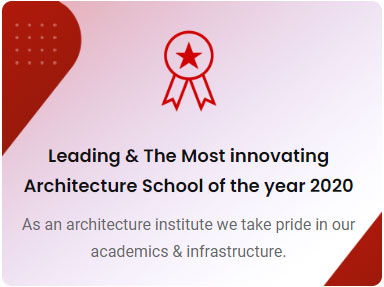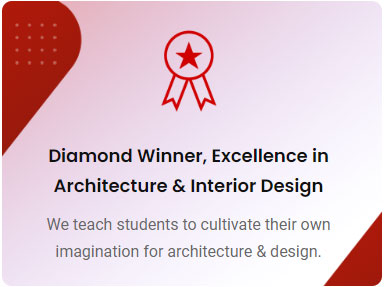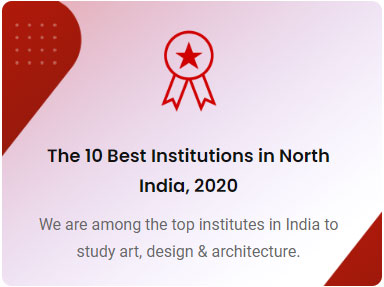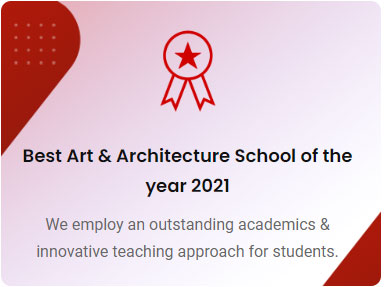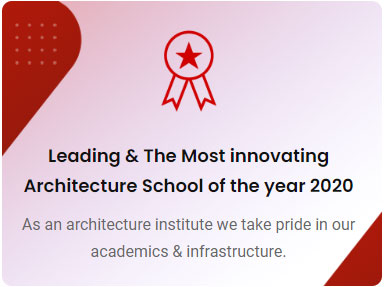 ALUMNI TALK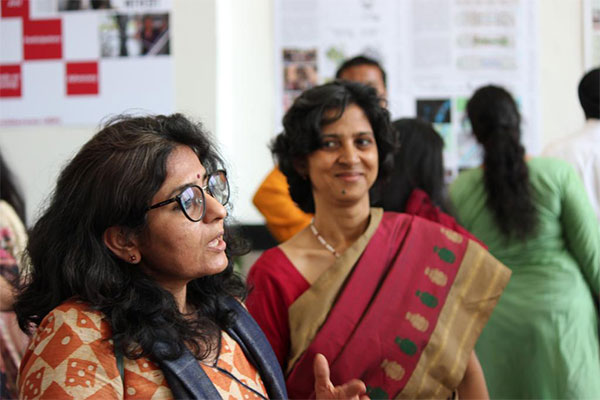 Our 1400+ strong alumni base has been instrumental in making School of Art & Architecture a preferred choice amongst architectural aspirants. Apart from lucrative internship & placement opportunities, SAA has ensured global exposure for students with 10% of students opting for international internship opportunities in the Middle East, Europe, and South East Asia.
OUR PARTNERSHIPS
Give your career a boost with lucrative national & international partnerships at School of Art & Architecture