Mud Futures 2021-2022 Apply For Admission E-BROCHURE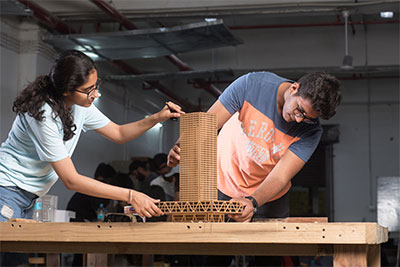 Top Architecture College in India
History
Established as the flagship higher education institute of the Chiranjiv Charitable trust in 1989, School of Art and Architecture has positioned itself as one of the Best Architecture Colleges in India. SAA has been offering a five-year undergraduate degree in Architecture and varied two-years M.Arch programmes. The school is recognized by the Council of Architecture (COA) and University Grant Commission (UGC).
Through the alumni and faculty networks, the schools have cultivated associations with several international universities. International relationships ensure that SAA commands its respected status within the global design community. We aspire to be amongst the world's most advanced architecture and planning institutes known for their stimulating, innovative and outstanding learning environment. Here, best faculty apply innovative pedagogical techniques and encourage young minds to explore the frontiers of research, creating knowledge that will equip them for the challenges of our collective future. Unlike other Architecture Colleges in Delhi, Sushant University offers new programmes to be introduced with the intention of filling gaps that are perceived in the architecture industry.
The school is also running summer / winter school programmes to educate school-goers about architecture and planning. SAA has strong association with institutions such as the American Institute of Indian Studie (AIIS), Indian Institute of Remote Sensing (IIRS), International Council on Monuments and Sites (ICOMOS), Indian Green Building Council (IGBC), Indian National Trust for Art and Cultural Heritage (INTACH) to facilitate exchange of resources and expertise.
Vision
Innovation in education; International Positioning Socially relevant education in architecture. With an aim to make and teach architects who are sensitive, have a strong work ethic, are articulate and confident, and contribute positively to the society, the pedagogic and research emphases of the School include: 'heritage', 'sustainability' and 'art and aesthetics' and 'hands-on learning'.
Upgrading skills of research in the country; developing intensive faculty training programmes to upgrade pedagogic output; Upgrading infrastructure with state-of-the-art studios and workshops housed in a new environment-friendly building; Expanding our library with an online database of books, references, national & international periodicals and journals are some critical steps for the way ahead that the school has heavily invested in.
The schools are in the process of positioning themselves as resource centres in the region, providing capacity building and training opportunities for professionals in the field. Through these endeavours, we envision SAA to become the think tanks of innovative disciplinary discourses that offer best Architecture Courses in India and are ethical, responsible, inclusive, socially effective, global yet rooted within our context.