Local area plan done by second year students of by Master of Architecture in Urban Design at Vasant Kunj New Delhi -M. Arch (Urban Design)
The 3rd Semester MArch in Urban Design Students (Batch of 2021-2023) did a Local Area Plan studio in Vasant Kunj with a participatory approach. The studio is an active and collaborative project between School of Art and Architecture, Sushant University, Urja (United Residents Joint Action of Delhi), the federation of Vasant Kunj and IUDI DNCR chapter.
The first public meeting was held on 19th October 2022 where we interacted with the MLA, ward councillors, MCD and other key stakeholders. It was a successful event with a lot of support from the residents. Students did a detailed regional and area level study and then prepared the SWOT, Vision and Objectives for the vasant Kunj.
The main aim of the LAP studio is to take a detailed look at a specific area, identifying and analyzing the various issues of relevance, before establishing and setting out principles for the future development of the area.
Webinar on Decoding the Haveli
SAA Heritage Watch 2020
Lost Typologies: Havelis and Chaupals
Gurgaon Living Lab
M Arch. BH, School of Art and Architecture, Sushant University is organising a webinar titled 'Decoding the Haveli' on May 9, 2020, Saturday, 5 pm onwards, as a part of our initiative to focus on lost typologies.
The webinar will focus on different aspects, challenges and questions associated with the traditional introverted courtyard typologies of various regions in India, as discussed by a diverse group of experts as well as faculty and students of M Arch. BH, SAA.
To register and receive the webinar link, please fill the Google form available on the link below:
https://forms.gle/jtQy7yFQtZxemwuE8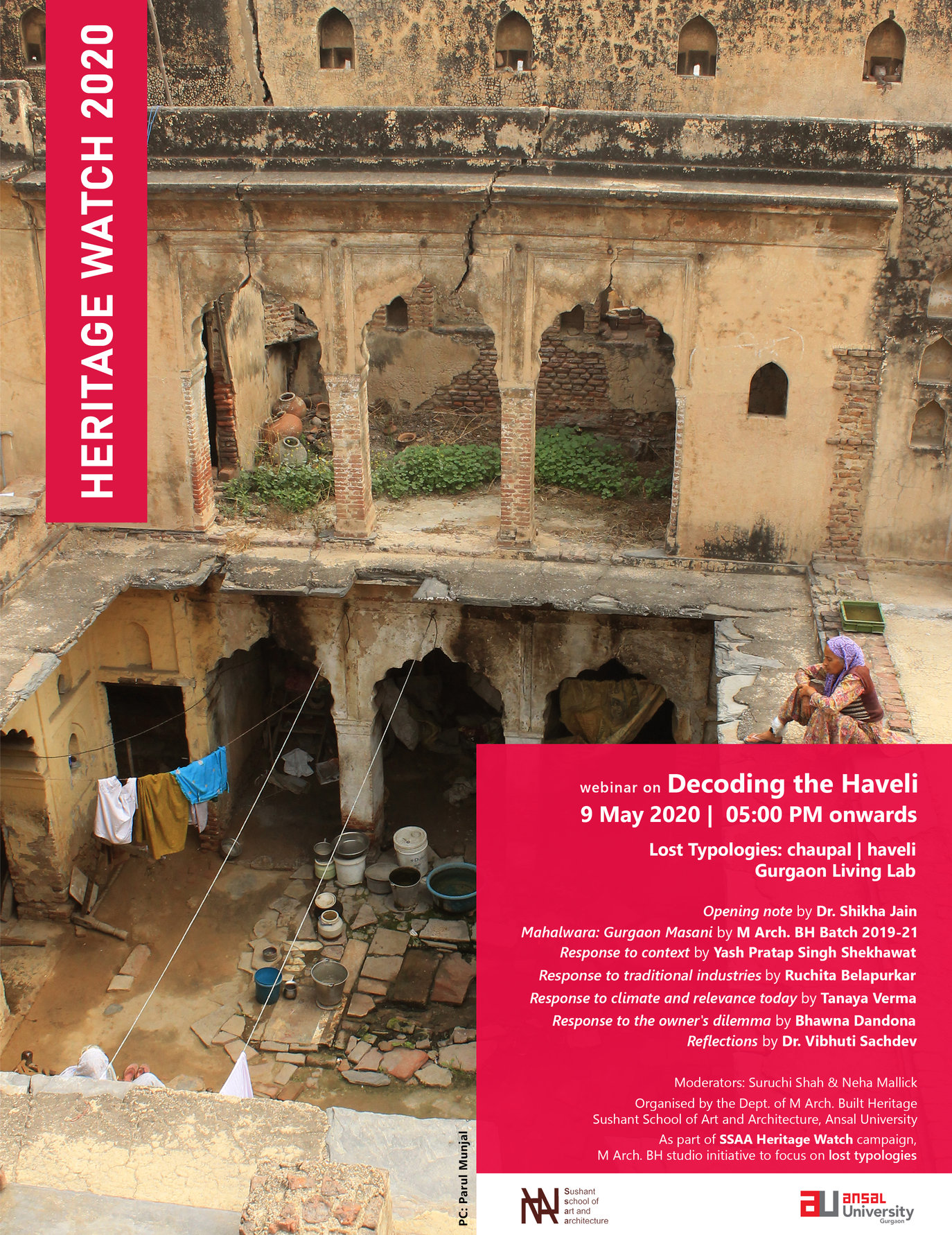 SAA Heritage Watch 2020
Lost Typologies: Havelis and Chaupals
Gurgaon Living Lab
Overview
School of Art and Architecture (SAA), Sushant University has been actively involved in generating awareness about built heritage through on-ground activities and outreach across various mediums. The initiatives have focused on highlighting built form typologies that are getting lost with passage of time, as the context and relevance of these has transformed. From bawdis or stepwells in 2018, to sarais or rest houses in 2019, we now proceed to havelis or mansions and chaupals or village community centres as the two typologies in focus.
The two typologies are common across rural settlements in Haryana, many of which are getting absorbed into urban areas in the form of urban villages. One such example is the Gurgaon Masani Village that has been associated with Sheetla Mata, a deity of regional significance and the rural identity of Gurgaon. The student and faculty team of Master of Architecture in Built Heritage (M Arch. BH) programme at SSAA undertook a study of the Village that has been undocumented till now and identified the Mahalwara and Badi Chaupal as two significant structures representing the haveli and chaupal typologies, hence defining the focus. The students are developing adaptive reuse proposals for these, based on an intensive process of documentation and stakeholder interaction prior to the COVID 19 lockdown. We now initiate a four-week campaign to create a discourse on the two typologies through a multitude of activities. Do follow us on https://www.facebook.com/OurBuiltHeritage/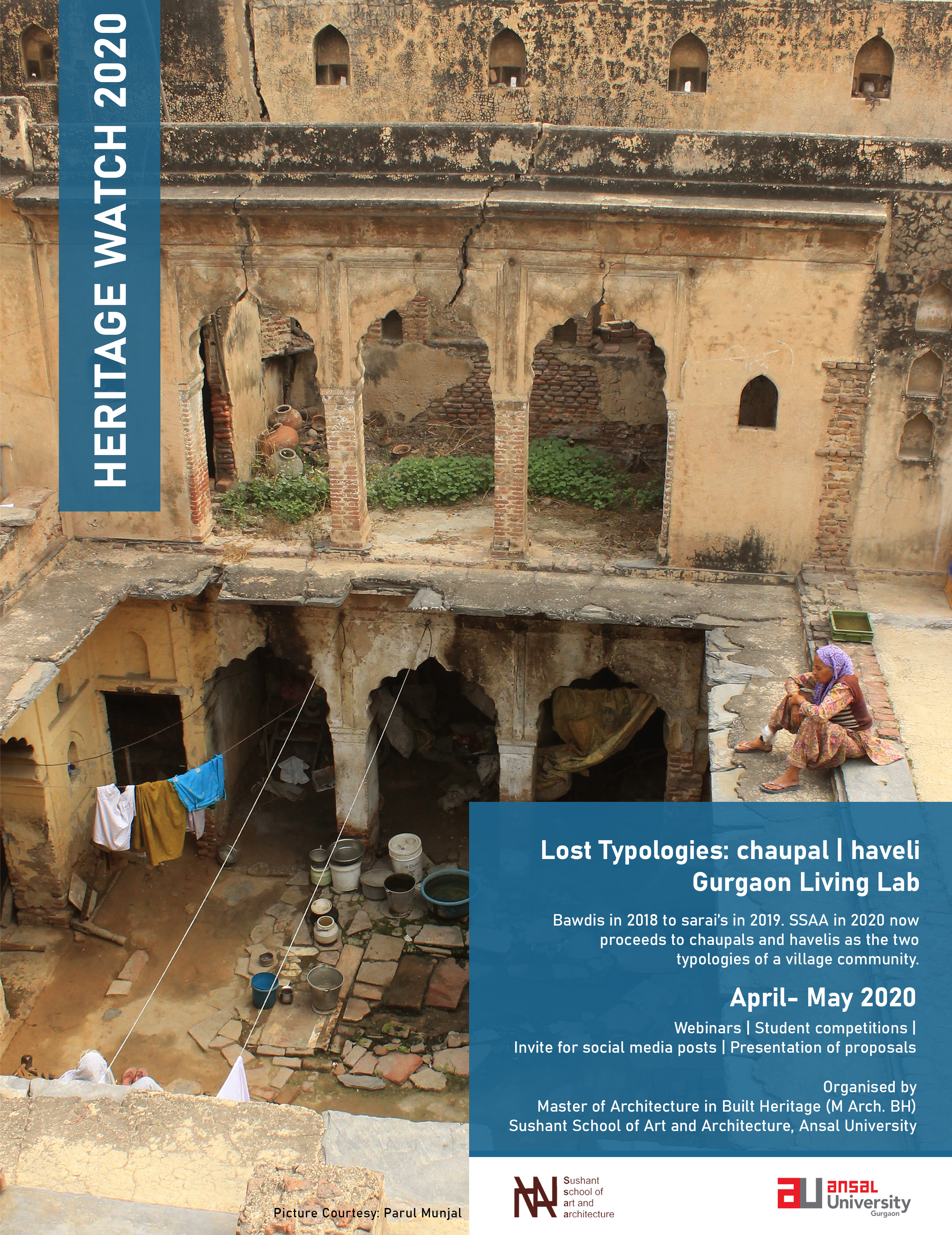 Hashtag a Haveli
Organised by Master of Architecture in Built Heritage (M Arch. BH), School of Art and Architecture (SSAA), Sushant University
as a part of the ongoing initiative Gurgaon Living Lab | April- May 2020 focusing on Lost Typologies: Chaupal | Haveli
What is it?
The ongoing pandemic, and the state of isolated living that it has imposed on all of humanity is making us architects rethink some of the design decisions that we have adopted over the last century. As we stay locked within the confines of our four walls, we cannot help but recall our traditional systems of dwelling, and the significantly improved quality of indoor life they could have enabled, had we stayed truer to our roots.
What wouldn't we give now for a life centred on a slice of courtyard with glimpses of the sky visible from all parts of the house, light and movement of the street reflected on our walls through ornate jharokhas, twilights in the terraces, sleeping under the stars.
As we await the webinars on Decoding the Haveli on 9 May 2020 to shed more light on the typology and topic, let us take stock through this social media initiative of what we already know/understand about havelis.
How to participate?
In the week between 4th and 10th May, we ask you to go back to your camera rolls, sketch books, and journals and share with us your haveli story via Facebook and Instagram following these three easy steps.
Post your favorite photograph or artwork of a haveli, and tell us in a paragraph where you found it, why you loved it, and what memory you associate with it.
Don't forget to use the hashtags
#humarihaveli #losttypologies #ssaaheritagewatch #builtheritage #ssaa #au
Wait for the best responses each day to be featured on Facebook and Instagram handles of Our Built Heritage, Sushant School of Art and Architecture (SSAA) and Sushant University.
https://www.facebook.com/OurBuiltHeritage/
https://www.facebook.com/SushantSchoolofArchitecture/
https://www.facebook.com/search/top/?q=ansal%20university&epa=SEARCH_BOX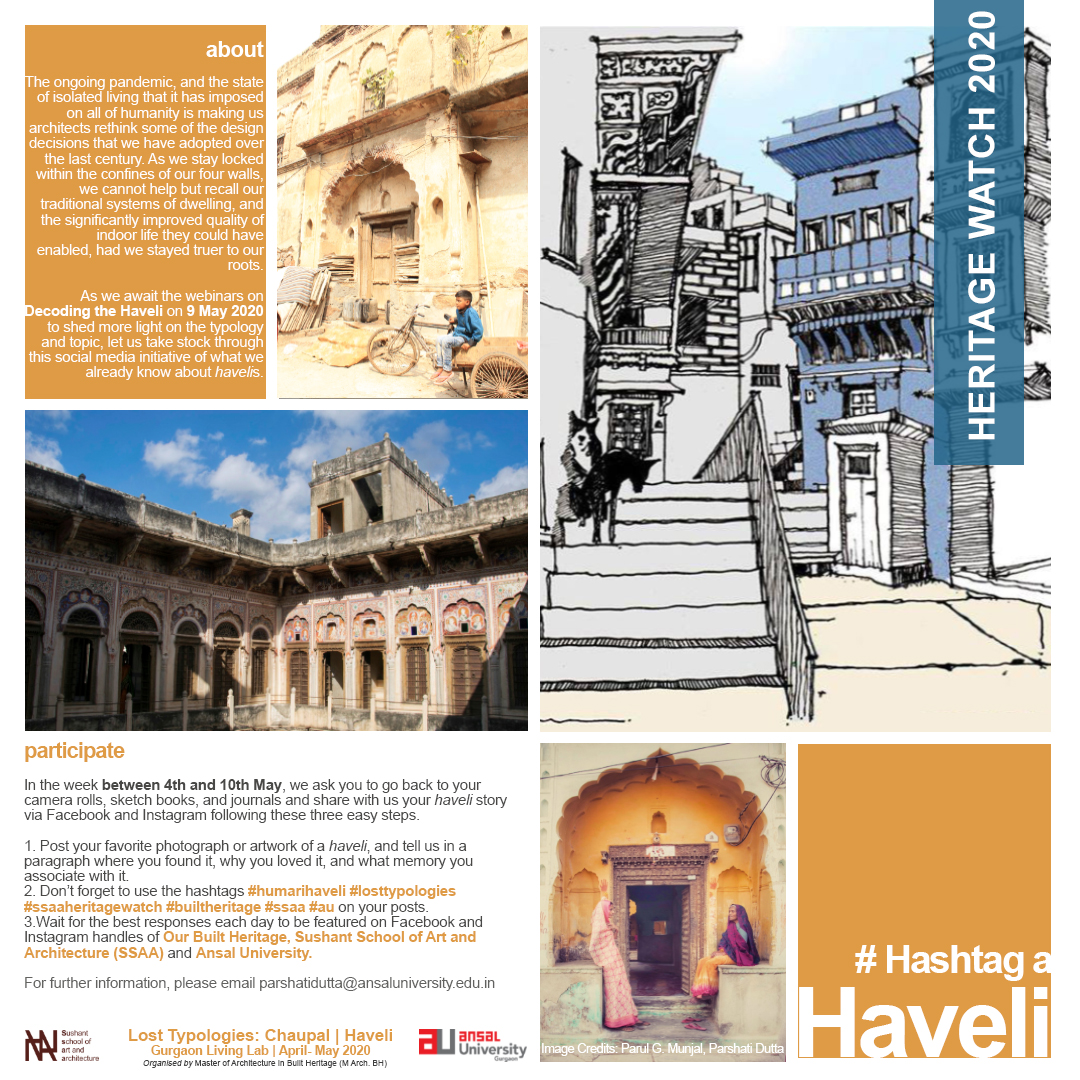 "APNI SADAK"
Street improvement project of Sushant university road
A Community Participation Day was proposed on 04 October 2019, promoting ownership of public space in the neighbourhood. This project is a Sushant School of Art and Architecture initiative in the MERA GRAM: GURUGRAM series titled 'Apni Sadak' in collaboration with HKS as part of their CSR initiative.
The event was a part of a students' project that transforms the road facing Sushant University into a pedestrian-friendly street through civic engagement facilitated by a collaborative association between students of Sushant School of Art and Architecture, Sushant School of Planning and Development and Sushant School of Design, of Sushant University.
This social outreach community event was organised in the public space right outside the university premise and got key stakeholders including GDMA, residents of sector 55, specifically children, informal sector representatives such as Auto Rickshaw drivers, together on to the same platform and voice their concerns. The event focused on transformational street improvement that bolstered pedestrian safety and remodelling of the corridor that connects Golf Course Road and Sushant University Road.
The event included activities that promoted the initiative in the artistic demeanour, such as painting and drawing competition, planogram etc. Witnessing the vibrance of the venture were the activities like slogan competition, nukkad-naatak and open mic competition, promoting the message in a healthy and jovial way. Apni Sadak promotes cleanliness along with a systemic way of following the protocols of traffic.
The primary objective of the Apni Sadak Elective Studio, project was to promote ownership of the street and public spaces in the neighbourhood. Students from the Planning, Architecture and Design led by their studio faculty Ar Aruna Bhardwaj, joined hands together create this vision. to . They proposed design enhancements such as pedestrian walkways, cycle/electric scooter pathways, planned informal activities promoting eyes on the street and adequate pedestrian crossings.
Speaking on the occasion, Dean SAA, Dr Vibhuti Sachdev, "It is heartening to witness our students engage in civic activities to promote street improvement and contribute to the cause. The aim is to make the streets pedestrian-friendly for the people who use them every day and ease the connectivity with public transport. Every person on-road should be able to enjoy the streets to reach home safe and to be able to walk around as pedestrians.
Speaking on the occasion, Gaurav Chopra, Managing Director India, Principal and Senior Vice President, HKS. "Through month of service HKS is pleased to contribute towards the transformation of this avenue that this initiative is intended to improve the pedestrian experience for the community and neighbourhood."
The project is going to act as a catalyst in street up-gradation and create awareness about the systemic and cleaner way of living. The project could later be extrapolated to other streets once made successful in its former stage. Encouraging cleanliness, the structure of the organisation and neighbourhood-friendly streets, Apni Sadak by the Design Schools Sushant University is all set to revolutionise civic engagement and create a better future.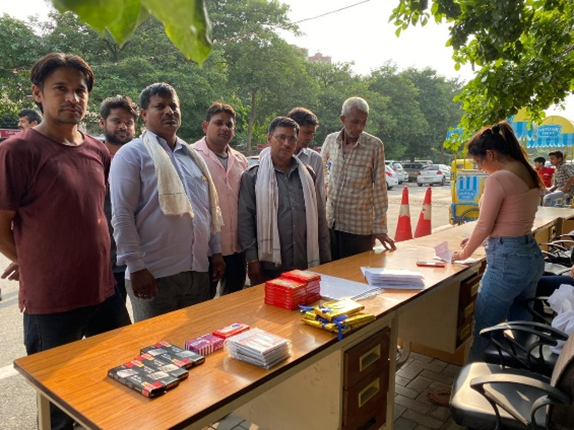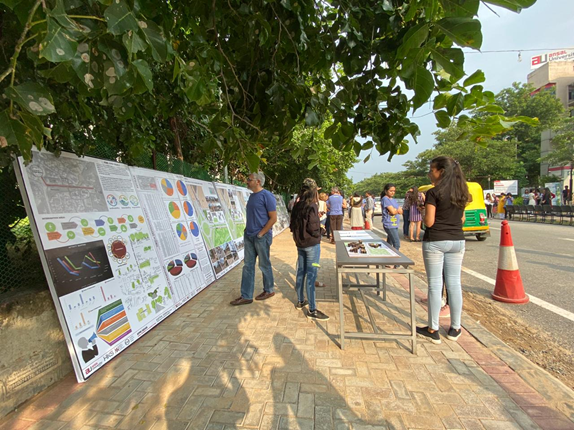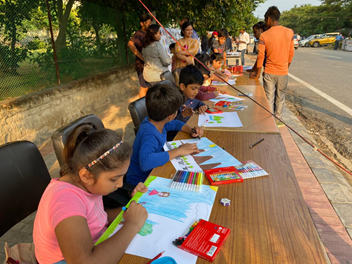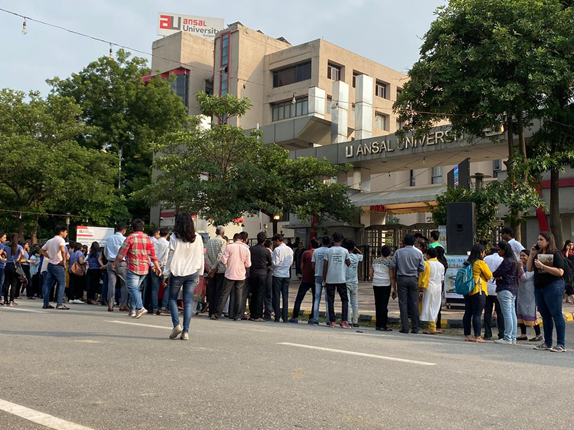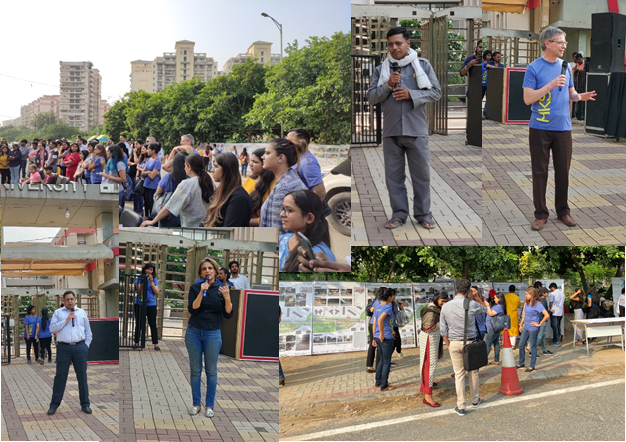 /* */?>