About the Programme
The Undergraduate Programme Bachelors in Hotel Management at Vatel Hotel & Tourism Business School, Sushant University is offered in collaboration with Vatel International, the 1st World-wide Business School Group of Hospitality and Tourism Management.
Designed with technical inputs from Academic partners, industry experts, extensive in-house research and dialogue with current industry players, BHM Programme uniquely integrate academic rigor with practical application aimed towards producing professionals who will not be just effective Leaders, but also dynamic agents of change and innovation in the hospitality and tourism sectors. The programme provides Hospitality knowledge & skill blended with the right attitude to succeed in the field of Hotel and Tourism business.
Students who aspire to build careers in the hospitality and tourism sectors are generally required to have an international and cross-cultural outreach. Keeping this important aspect in mind, Vatel hotel & Tourism Business School at Sushant university gives to its students the opportunity to spend, under the Marco Polo Programme, the entire 3rd year of their study in a different Vatel school, located in the different parts of the world. This is being done with an aim to provide cross- learning exposure to the students in an environment of international hospitality.
Highlights of the Programme
Practical Oriented Curriculum
Experiential Learning
4 Year Tailor Made Programme
Best in Class Tutorial Rooms & Fully Equipped Lab Infrastructure
A Dynamic & Priceless Network of 35,000 Vatelians
Certified Hospitality Faculty with Rich Industry-Academia Exposure
Curriculum Aligned with Vatel International Curriculum
Industry Exposure Internship in 2nd & 3rd Year
Summer Internship at Vatel Nimes, France
Curriculum Aligned with Vatel International Curriculum & UGC
Student Exchange Programme - Opportunity to Undergo a Full Semester Under Marco Polo Programme
Strong Industry Connect
100 Percent Placement Assistance
Foreign Internship Opportunities
Student Led Hospitality Events Promoting Entrepreneurial Spirit
Vatel Alumni Connect
Scholarship Based On NCHMCT- JEE & Sushant University's Scholarship Test
Trans Disciplinary Learning
Mentorship Programme
Potential Career Opportunities
Hospitality Chains & Resorts
Retail Chains
Cruise liners
Entrepreneurial ventures
Aviation
Healthcare
Customer Relations in banks & MNC's
Teaching
Pedagogy
Dedicated and research oriented faculty implements teaching-learning process at VHTBS through rigorous planning and keeping in view the industry needs. Our course curriculum is designed conforming to the current International requirement and is reviewed time to time as per the need. Value addition is continuous focus and objective of curriculum. Development of the Operational and Managerial skills with respect to the Global environment in the field is prime focus. We provide our students with the opportunity for meaningful academic development of knowledge with respect to the world environment. The emphasis is given on Industry orientation and our graduates are effective in management of the operations and soft skills.
Students undergo classroom lectures, tutorials, case studies, assignments, seminars, workshops, multimedia presentations, and lectures from guest speakers from the industry and academia. Role plays, project work practical, industrial and exposure training with leading hotels in India and abroad, industry visits are some of the methods continuously used and monitored for timely revision as per the International Standards.
To develop integrated knowledge of programming, students visit hotels for industrial training & exposure (National & International) & are exposed to research projects on the topics related to syllabus, latest trends in technology & innovative practices being followed by the industry. VHTBS believes in active Industry-Institution partnership and collaborated with Hotels for Academic Partnership.
Internships at Vatel India
Continuous Exposure with the industry is the key strength of our curriculum. School has made arrangement with various hotels in India and Abroad to provide opportunities for quality training. Exposure to the industry at various levels of programme helps in making the student Industry Ready and bridges the gap between the academia and the Industry to produce better professionals
"Internship"- "Just like footprints in sand, each steps signifies the Journey taken"
Hotel Management Internships at SHM during 4 years
First Year (International Hospitality Exposure)- Optional
"Summer classes: spend the summer abroad"
4-6 weeks' summer internship in Vatel Nimes France to expose the students Internationally and experience international standards of service. Students have the opportunity to further develop their practical skills by joining the summer school programs in Nimes France, they explore various departments in the Vatel Hotels and Restaurants and strengthen their experience working in live conditions.
Second Year (Industrial training)- Mandatory
22 weeks of training in five-star hotel nationally or internationally to understand the operations in the major core departments of Hospitality (Food production, Food & beverage service, Housekeeping & front office). This training helps them inculcate importance of Grooming & Communication in hospitality industry. Also this training familiarizes them with the working of the core departments of the hotels.
Third Year (Specialization Training)- Mandatory
22 weeks of specialized training in their choice of department (Food & Beverage production or Room Divisions). This training helps them enhance their skill in their respective choice of department and expertise in particular field.
Marco-Polo (Student Exchange program)- Optional
"Ex-Change Your Life"
Students who are considering making a career in tourism or hospitality industry must be prepared for an international experience. Keeping this in mind, Vatel gives the students opportunity to spend the 3rd Year of their BHM programme in a different Vatel schools, located in any part of the world, subject to visa approval of the country. This is an opportunity where students discover a different country, a new culture, while learning an additional foreign language and continuing their studies. The school year is validated and the ECTS credits are awarded by the host school. Finally, the students can also do their internship in the host country.
Following are the Hotels where currently students are getting their training:
Revnala attitude Beach Resort, Mauritius
Taj Chandigarh
Pride plaza Aerocity
The Roseate New Delhi
JW Marriott, Jaipur
The Hyatt – Pune
The Leela, Goa
The Westin
The Bristol
The lemon Tree
Linkages and Partnerships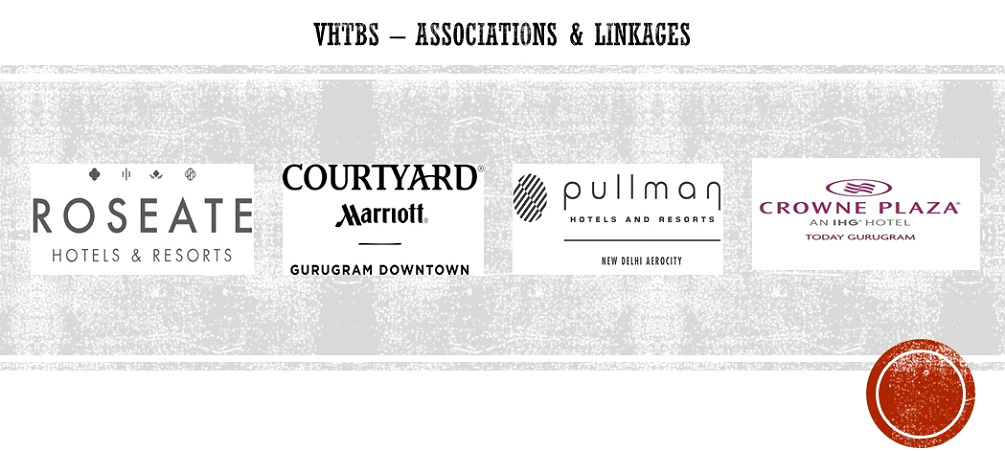 A Joint Partnership is prevailing between Roseate Hotels & Resorts, Crowne Plaza Hotel, Gurgaon an IHG Hotels, Pullman Aero city New Delhi an Accor Group, Courtyard by Marriott Gurgaon and VHTBS for closer Collaboration for Educational Excellence.
Cooperation is in the field of Faculty Exposure, students Training and Visit of Industry Experts to conduct special sessions at VSHM beside many other opportunities are being utilized for academic development.
Being top Hotel Management Colleges in Delhi NCR, we have strong tie ups with the industry, we are able to propose to our student interesting outdoor catering and events, that have become great learning events to the participating students, last year our students went all the way to Austria and Turkey for different events. Hotel Management College in Gurgaon
Highlights of the Partnership
Experiential learning and Hands on Practical for the Students
Explore internship opportunities for students of VHTBS in the field of hospitality and related areas.
Support of real time training at Hotel for VHTBS students.
Provide career options for student from VHTBS to fulfill the aspirations of the emerging hospitality sector
Collaborate on all areas that enhance student experience & increase their readiness from an industry prospective.
VHTBS faculty development program in various hotel departments hotel.
Professional development opportunities for staff of Courtyard by Marriott at VHTBS
Guest Lectures at VHTBS by industry experts.
Entry Requirements
Minimum age to apply – 18 Years
Admission will be granted purely based on merit. The merit list will be prepared as given below:
70% Weightage to qualifying Examination (Aptitude test)
30% Weightage to Personal Interview
Pre-Requisites
Overall Aggregate of 50 % marks in 10+2 (any Stream) including English as a mandatory Subject