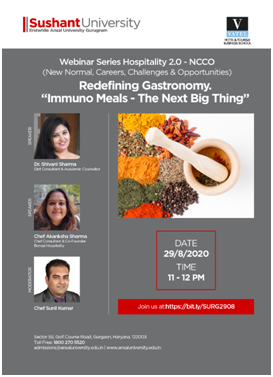 The Vatel Hotel and Tourism Business has left no stone unturned in either in assessing the current Covid crisis by way of inviting various celebrated speakers engaged in the hospitality business, it has examined this angle equally in the airlines, the travel trade and now, since the consumption of meals are also being subjected to the angle of hygiene, self-protection and developing immunity, two specialists were invited as resource persons to conduct a webinar for faculty, students and for special invitees.
The theme of the webinar was carried forward by Dr. Shivani, a renowned dietician and Chef Akanksha a young chef, earlier with the ITC Hotels and now an entrepreneur herself, divulged extremely informative and revealing facts about the potency of various edibles and their use with regard to either developing immunity or for deterring various viruses. "Immuno meals are the next big thing in the society and the questions as to why and when do we eat healthy food automatically erupts in the mind" says Dr. Shivani, who while touching upon the history of the peoples' eating habits said that compared to the earlier times, the modern, international standards have changed our mindset, our health and indeed our dietary and medical requirements. "What are immunity boosters…? They are the foods that have the capability of supporting our immune systems and prevent us from falling sick. To name a few, broccoli, avocados, citrus foods, ginger, strawberries and bell peppers help us a lot in this area. All these foods are available locally and are easily accessible."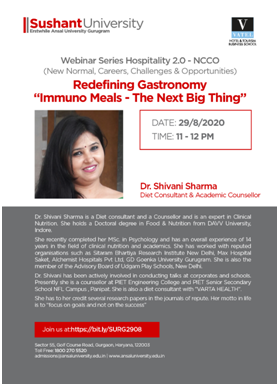 The Farm-to-Plate concept introduced by many organisations, in which they offer fresh fruits and vegetables right at your doorstep and also go to the extent of providing organic foods is in practice these days and, depending upon the authenticity of their claims about being hygienic and sanitized some amount of research should always be done.
"There are already some foods which are being used right from their ancient times and we too have carried forward their usage, without even knowing how valuable they are. Quinoa seeds, chia seeds, cabbage and amla are full of nutrients, so very essential for our bodies for building immune systems. We are slowly forgetting whatever we learnt from our ancestors as to why they used to include certain ingredients in their foods – they were actually immunity boosters, that's the reason as to why we our immunity system in the modern days has become fragile and we are falling sick so frequently.
Hospitality establishments are now going to the extent of providing Immuno Thalis, Immuno drinks and shakes and ayurvedic meals based specifically on the constitution of an individual. Every food must satisfy all 5 senses space, air, water, earth and fire. "The benefits of Haldi, or turmeric are inestimable and in my mind everybody should consume turmeric mixed in milk before retiring for the day. This is the best immunity booster." Says Dr. Shivani.
Chef Akanksha, while talking about the availability of healthy foods in the hotels of high standing said "Gone are the days when, while staying in hotels you were required to sacrifice your usual domestic meals as the hotels have now become innovative and have introduced special domestic, home-like meals for their customers. They are hygienic, low in calories and on the fat. Whatever you may say, the Indian food remains on the top of the list to be containing immunity boosters. Asked about how to recognize good honey with a bad one, Akanksha said, if the you put honey in the fridge and if it develops any crystals, it should mean it is not genuine. Secondly, honey will always settle down if poured in water. "I personally recommend the consumption of warm lemon water with honey and basil leaves at least twice in a day. This will keep you fit and active all day"
The biggest disadvantage of the modern day foods is that they all use processed ingredients which are the main cause of the proliferation of cancer, allergy and diabetes. Furthermore, we usually pass our days and nights in air conditioned areas and we do not break any sweat. Furthermore, we tend to neglect the drinking of water which is an extremely important thing to do in a day, neither do we get out into the sun. The olden days in which people used to walk for miles every day has also been reduced considerably. "We have to get down to doing our work ourselves – that will give us forceful exercise and movement to our body and keep us away from the sedentary lifestyle, of which most of us are victims" Says Akanksha. We should hand-pound our spices and ingredients as against getting them in a powder form from the market, packed in plastic coverings or containers. "All meals should be consumed at their fixed timings and the bodies too discipline themselves to it. Any disturbance in the regular meal timings will not make your systems function to their fullest. We are currently prioritizing work over our meals" Lemons are cheapest and easily available, says Akanksha, we should consume at least one in a day in whichever way possible – in water, salads, dal, fruits etc. People in olden days used to carry a lemon wedge in their tiffin as an important thing. We may have done it in our childhood but now we have forgotten all about it.
"Chana dal, raisins, cashew nuts and lentils are very rich in zinc and therefore must be consumed every week. It should be a practice, as much as possible, not to over-wash the lentils. Fruits and vegetables of different colours should be consumed as they contain their own special advantages.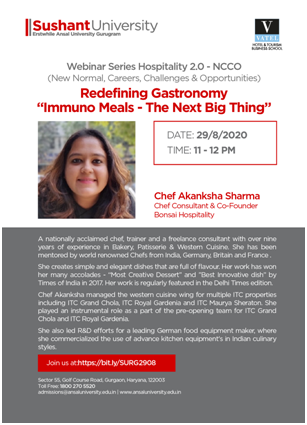 There are many countries which have totally banned the consumption of sugar, Iceland, Norway, Sweden are the forerunners in this activity. "There is something to do also with the marketing systems we have adopted for our foods as they lose compared to how the American and Chinese foods are packaged and sold. That's where the biggest problem lies. Being a vegan restricts you from getting a complete meal. As a matter of fact, one should cut down on cereals and compensate with milk. Soups should always be freshly prepared and consumed. Lamenting over the downside about the food control systems in India, Akanksha said that we are regrettably not very strict about what goes in the packaged foods, how the fresh vegetables are treated, how paneer is made, and how it is stored and transported.
"We in India might be consuming the healthiest meals on this earth but we still have a long way to go before we can eat fully hygienic, non-processed, pure ingredients and foods" says Chef Akanksha.