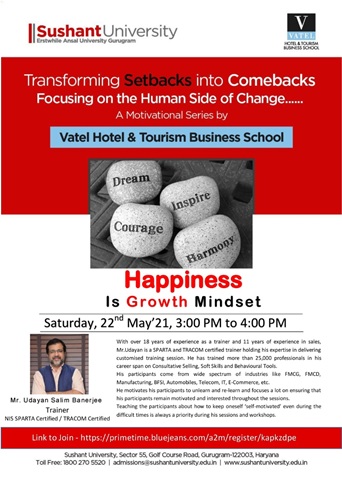 With the school students, upon finishing their studies and housing within their hearts, a strong aspiration to get a first-hand feel of the real, college-like, fun atmosphere but regrettably having to come across discontent due to the pandemic, their morale was but to be affected, thereby necessitating for the Vatel Hotel and Tourism Business School, Sushant University, to find ways to pep them up and to bring them close to the reality.
Mr. Udayan Bannerjee, a seasoned trainer, instructor and guide engaged exclusively in conducting seminars and motivational lectures over three decades was called upon to meet our students online and to talk to them about seeking positivity, irrespective of what the environment and the atmosphere may decree.
He started upon a rather interesting note, impressing upon the fact that it's the end result that counts and nurturing a strong determination towards our goals is what we all must condition our minds towards. "Knowledge is what eventually what on one hand increases one's confidence, and, on the other, decreases fear and anxiety." Sais Udayan.
Happiness is a growth mindset, for which he impressed upon the need to KASH everything, thereby elaborating the acronym – Knowledge, Attitude, Skill and Habit. These four aspects, if worked upon and harnessed seriously can lead one to achieve the impossible. "Impossible things just take a longer time" he said with a smile on his face. All of us are driven by something inside says he, and that something is the very object that we need to discover within ourselves. Once we come to terms with it, happiness in life knows no bounds, neither any limits. "There are two kind of mindsets", says he. One being a fixed mindset, in which is comfortable and feels secure within his own world, his own cocoon and does not venture out much, whereas, the other is the is the growth mindset, which, with the help of the KASH formula steps, helps one achieve all the desired results. He gave clear examples of the CEO's and the owners of large industrial houses categorized under Fixed Mindset Leaders like AOL's Steve Case and Time Warner's Gerald M Lewin whose companies suffered American history's biggest financial losses, plus Enron's Kenneth Lay and Jeffery Skilling who began to record the company's profits for business ventures that had not yet even begun to generate any revenue. He juxtaposed these personalities against Jack Welch, the CEO of General Electric who was open to constant improvements, enhanced collaboration at all levels and enhanced proactivity in all employees, as the end result of which, GE saw an increase in its value from USD 14 billion to USD 490 billion, which represented a 30 times increase in a matter of just 20 years. Citing a yet another example, Udayan spoke about Lou Gerstner, CEO of IBM who, by virtue of fostering the culture of teamwork, being adaptable to changes and by rewarding performances of his people, led the IBM to be a highly customer-centric company providing quality service to its customers.
"there is a need to understand and come to terms with our Circle of Control with regard to self and the others around us. People can become successful by nurturing confidence within themselves and he quoted Stephen Covey, who said – "I am not a product of circumstances, I am a product of my own decisions"
Udayan played a short inspirational film in which he displayed a very interesting analysis of the kind of approach that people house within themselves, that of being Reactive, Active and Pro-active and showed how even a small schoolboy, by virtue of being pro-active, could be successful in bringing about to solve a great operational problem. Citing none other than the steel giant Arcelor-Mittal's CEO, Lakshmi Mittal who said – "I don't believe in hitting the iron when it is hot. I believe in hitting the iron so hot that it becomes hot. It is thus by being pro-active that large industrial houses like Hindustan Levers, Hindustan Motors and a few FMCG companies continued to become successful in all their business ventures.
The growth mindset could therefore be achieved by enhancing KASH, focusing on the circle or activities within control, being proactive, meeting expectations and understanding others' perspectives and viewpoints.
Delving deep into the kinds of happiness, Udayan elaborated upon hedonistic happiness (a result of material items, gifts etc.) and huedynamic happiness (a result of internal qualities like growth mindset, private and social victories) and progressed to talk about the stark difference, saying that whereas the hedonistic happiness is temporary, the huedynamic happiness can be long-term and, in some cases even permanent. Giving a piece of important message, he said to the students that one must shift his/her mindset from being hedonistic to huedynamic.
Udayan's talk was much appreciated and at the end he recommended inspirational books like YOU CAN WIN by Shiv Kheda and HOW TO WIN FRIENDS AND INFLUENCE PEOPLE by Dale Carnegie.
The webinar was moderated by Chef Sunil Arora, the programme director of the Vatel Hotel and Tourism Business School, to which, the vote of thanks was proposed by Mr. Kulmohan Singh.