Hotel industry is demanding but very rewarding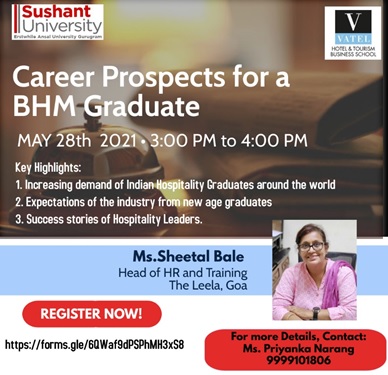 Students take a lot of delight in having to listen to a personality talk about great, useful aspects of professional life and advancement, especially if it is being delivered by an external resource. It is keeping this in mind that the Vatel Hotel and Tourism Business School invited Mrs. Sheetal Bale the HR anager at the Leela Goa, a world renowned, Conde Naste property to give to the students an insight about the dynamism and the rewarding future in the world of hospitality.
In her opening address she said that once when you choose to make a career in hotels, you choose to join a "Show Business" and you must do that with "open eyes" and be happily prepared to be on the shop floor right from the first day. Being the HR head, she said that the first quality she usually looks for in a candidate is his/her ability to communicate in English, which, by virtue of the global nature of the industry, is an essential must-have. However, elaborating further upon the subject, she said that communication is a very fine, micro skill and it does not limit itself to mere fluency in English. In hotels one communicates all the time and there are many exchanges in conversation that take place without saying a single word…
Further on, she said we must understand that a hotels do not have clients or customers, they have "guests" and just like enthusiastically looking after our own personal guests at home, we must try and do in the hotel everything that's possible to take care of their needs and to make them happy before they come in, during their stay and even after they go away. ATITHI DEVO BHAV, which means treating the guest like God, is a slogan that all the people in the hospitality trade must keep closest to their hearts. Each time you serve a guest, you get to learn something new about them and the deeper the information you gain about them, the happier will they eventually be.
A challenge that the students usually get to face during their internships in hotels is the long working hours. This is something that everybody in the hospitality sector has to come to terms with, be in hotels, travel trade, airlines, cruise lines, catering, restaurants, conferences, conventions and even retail. "The sooner they realize that even the vice presidents of hotels have also had to, at some point in time, sportingly accept such long working hours, they will understand the importance, the reason and the purpose thereof. "There is a lot that the students get to learn and to take away in every single day of work as the function of no two days in hotels is never ever similar in this trade" says Mrs Bale.
Every human being possesses some talent and a very special passion. One must try to hone that talent, especially if the flair is towards serving people and working towards bringing in a smile of their face. The hotel industry is extremely dynamic and has withstood all sorts of challenges and hardships. "Covid or no Covid – we are here to stay"
Taking a question about the students being dejected about not being able to join a hotel as a management trainee, (which, in reality happens to be the dream of all students) she said that no matter where you begin from, it is your sincerity, hard work and honesty which will ensure your success at every step. A hardworking person, even if he/she joins a career just at the entry-level, will definitely get to the manager's position within 8 to 10 years, after which, thereafter, there is no looking back.
Pepping up the students further she said, "Life of people working in hotels might though be tough, but they also get to enjoy several perks and advantages, which are a matter of envy for the people of many other trades, businesses and disciplines."
Showing to the students a short movie, a walk-through of The vast, sprawling 75-acre property of The Leela Goa, she said, "We have changed and upgraded many HR policies and the happiness level of our staff and management has tremendously risen. Away from a work-work-work situation, they are given to spend quality time in the recreation rooms, learn new ways in the training rooms and enjoy social gatherings." The webinar consummated by the dean Vatel Hotel and Tourism Business School, Dr. Garima Parkash presenting a detailed analysis of the modalities and the progress of the various courses, i.e., Hotel Management, Culinary Arts and the MBA. She also gave a vote of thanks for the special efforts put in by Mrs. Bale.