About the Programme
The programme MBA in Hospitality Management combines General Management knowledge with specialized concept-based training in Hotel Operations & Management across India and world over. Upon completion of the program, students have the opportunity to enter the hotel industry, hospitality and service sector at managerial positions, or may choose to explore the field of Entrepreneurship.
MBA in hospitality management allow students to undergo a specialisation in either of the two fields Catering Management or Room Division Management.
The programme is inclusive of an Internship at Star commercial hotels or establishment to develop department specific skills required to grow in specialized field of hospitality followed by a final dissertation submission, the purpose of which is to condense the Conceptual Knowledge and skill gained during the MBA Programme and put that to use in the real world hospitality Scenario addressing the problems, issues and suggesting ways to overcome them.
MBA will be a Value addition in the qualification and training of the students and will make them competent Global Manager.
The students are also guided through the elaborate process which will lead them in to the field of Entrepreneurship through regular industry connect, mentoring sessions by leading start-up idealist and help them start their own hospitality business ventures.
Program Highlights
General – MBA (Master in Business Administration) Degree
Programme based on Extensive Industry & Educational Research
Unique Interwoven Curriculum - Blend of Business Management & Hospitality Management
Flexibility to choose from the two Specializations:

Room Division Management
Catering Management

Operational, Leadership & Managerial Skills fostering high levels of Managerial Competence
Skill building, Knowledge enhancement and networking workshops
Special Scholarship Opportunity
Excellent Multicultural Exposure
International Internship Opportunities
Exceptional Corporate Connect
360 Degree Placement Support
Immersive Experiential learning in the form of Case Studies & Industry based Research Dissertation.
Specially Curated Mock Interview Sessions and guidance
Guest Sessions by leading Corporates
1:1 Mentorship by Industry Leaders
Potential Career Opportunities
Entrepreneur
Management trainee with leading Hospitality Chain
Executive/Manager/Supervisory levels with

Hotels & Resorts
Tourism Development Corporations
Retails
Airlines
Healthcare management
Customer Care services
Pedagogy
Dedicated and research oriented faculty implements teaching-learning process at VHTBS through rigorous planning and keeping in view the industry needs. Our course curriculum is designed conforming to the current International requirement and is reviewed time to time as per the need. Value addition is continuous focus and objective of curriculum. Development of the Operational and Managerial skills with respect to the Global environment in the field is prime focus. We provide our students with the opportunity for meaningful academic development of knowledge with respect to the world environment. The emphasis is given on Industry orientation and our graduates are effective in management of the operations and soft skills.
Students undergo classroom lectures, tutorials, case studies, assignments, seminars, workshops, multimedia presentations, and lectures from guest speakers from the industry and academia. Role plays, project work practical, industrial and exposure training with leading hotels in India and abroad, industry visits are some of the methods continuously used and monitored for timely revision as per the International Standards.
To develop integrated knowledge of programming, students visit hotels for industrial training & exposure (National & International) & are exposed to research projects on the topics related to syllabus, latest trends in technology & innovative practices being followed by the industry. VHTBS believes in active Industry-Institution partnership and collaborated with Hotels for Academic Partnership.
Internships at Vatel India
Second Year (Specialization Training)
22 weeks of specialized training in their choice of department (Food & Beverage production or Room Divisions). Specialized Internships are supervised, structured learning experiences in a professional setting that allow you to gain valuable work experience in a student's chosen field of study. The students are also required to submit their dissertation on a particular Project at the end of Internship.
Linkages and Partnerships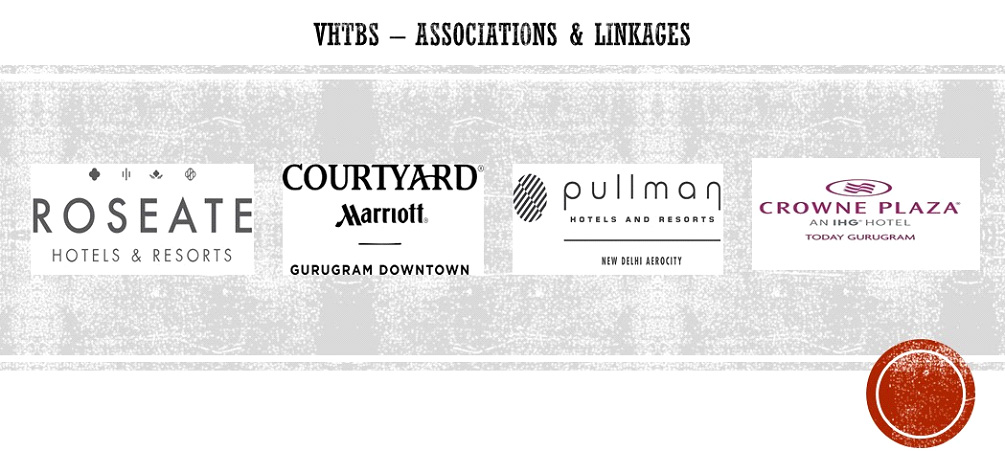 A Joint Partnership is prevailing between Roseate Hotels & Resorts, Crowne Plaza Hotel, Gurgaon an IHG Hotels, Pullman Aero city New Delhi an Accor Group, Courtyard by Marriott Gurgaon and VHTBS for closer Collaboration for Educational Excellence.
Cooperation is in the field of Faculty Exposure, students Training and Visit of Industry Experts to conduct special sessions at VSHM beside many other opportunities are being utilized for academic development.
Being top Hotel Management Colleges in Delhi NCR, we have strong tie ups with the industry, we are able to propose to our student interesting outdoor catering and events, that have become great learning events to the participating students, last year our students went all the way to Austria and Turkey for different events. Hotel Management College in Gurgaon
Entry Requirements
Minimum age to apply – 18 Years
Admission will be granted purely based on merit. The merit list will be prepared as given below:

Aptitude Test
GDPI (Group Discussion & Personal Interview)
70% Weightage to qualifying Examination
30% Weightage to Personal Interview
Pre-Requisites
An Accredited bachelor's degree with a minimum percentage of 50 % or 5.0 CGPA (any Stream) including English as a mandatory Subject. with min score of MAT-450/GMAT- 450/ CMAT - 100 or percentile in CAT/XAT - 65 / NMAT – 50 or Aptitude Test Conducted by Sushant University.