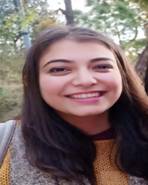 While pursuing my B.Tech. at Sushants, I was really fortunate to study under the supervision of great teachers. After graduation from Sushant University Jigyasa taught for two years in the Teach For India Fellowship and then worked as a National Student Leadership Consultant, designing and piloting learning experiences to build a culture of student leadership across the seven cities of TFI.
She currently leads Slam Out Loud that works at the intersection of arts, education and leadership by providing access to art and artistic opportunities to at risk individuals. Having worked with a multitude of organizations in leadership building and expression, including MHRD, Creatnet and Delhi University she's an entrepreneur incubatee by Government of Delhi, Unltd and N/Core and a recipient of the Gold International Award for Young People.
She's an Unleash fellow, an Arts for Good fellow at the Singapore International Foundation, an avid traveller and musician, having shared her journey through three TEDx talks.
Jigyasa Labroo, B.Tech. (CSE 2015)