SET Collaborations
School of Engineering and Technology, with a view to keep abreast with the technological advancements in Engineering, provide newer and better pedagogical experience to their students has collaborated with the following various Industrial and Academic Partners:
University of the West of England (UWE)
Sushant University has signed an MOU with University of the West of England (UWE), Bristol for
1. Student exchange
2. Faculty exchange
The University of the West of England, Bristol (UWE Bristol) public research university, located in and around Bristol, England. The university is ranked among the top 25 higher education institutions in England for its graduate employment prospects. Recent figures show 96% of recent graduates are in employment or further study.
SIEMENS
B. Tech. Mechanical Engineering with specialization in Digital Manufacturing is offered in collaboration with SIEMENS.
Key Features of the Collaboration:
SIEMENS excellence centre at the campus.
Learning from SIEMENS certified instructors.
Full access to all Global Manufacturing Technologies and related software.
Certificate issued by SIEMENS on successful completion of training.
SIEMENS learning advantage platform access.
Attractive placements worldwide.
Tenaci
A Memorandum of Understanding has been signed between Sushant University and Tenaci Engineering Pvt. Ltd. Students are benefitted by the Technological Expertise Tenaci offers. Both parties have agreed on collaborating with each other on complementing their skills, experience, strength and resources to deliver education, laboratory experience and practical road construction experience to Civil Engineering students.
CADD Centre
B. Tech Civil Engineering (with specialization in Smart cities), M. Tech Civil Engineering (with specializations in Structure Engineering, Construction management, Smart Cities and Management and Environment Engineering) and M. Tech. Mechanical Engineering (with specialization in Robotics) is offered in collaboration with CADD Centre. The objectives of this collaboration are to provide employable skills and awareness of the latest tools and techniques at affordable cost. While subject knowledge will be provided by the Sushant University, CADD centre will equip the students with industry specific tools and project management skills.
Uniconverge Technologies Pvt Ltd.
A collaboration has been done with Uniconverge Technologies Pvt Ltd. to jointly conduct programs and courses in the domain of Electronics and Communication with specific focus on 5G and IoT. Mutual endeavor is agreed for Projects, Research, Seminars, Industry Visits, Course development, Entrepreneurship and Placements.
UiPath
School of Engineering and Technology and UiPath, United States have made an Academic partnership in the field of Robotics Process Automation (RPA) for B. Tech. (ECE, CSE) and M. Tech. (ECE) specializations. UiPath is a leading company in the world that provides RPA software platforms to help organizations efficiently automate their processes. With this academic partnership, both students and faculty of SET shall be trained in the latest RPA software and applications and will be able to access RPA resource kits, online RPA tools and other relevant resources that shall be provided by UiPath. In this project based learning environment for SET students, a series of workshops, hands-on, webinars etc. will also be conducted to instill industry skills and groom them with innovative technologies in the relevant areas.
National Institute of Information and Technology (NIIT)
Bachelors of Computer Application program with specialization in Banking and Finance is offered in collaboration with NIIT. The students completing this program in the pre-final / final semester will be given assured interviews in order for them to get their career started in the banking and finance industry. Stack Route post graduate programme is further extension of the proposals by NIIT. Students shall be trained on full stack product engineering in a world class pedagogic design and is going to coordinate in their placements.
upGrad
B. Tech CSE with specialization in Artificial Intelligence and Machine Learning program is offered in collaboration with UpGrad.
National Institute of Solar Energy (NISE)
B. Tech. Electrical Engineering with specialization in Renewable Energy is offered in collaboration with NISE.
IoT-NCR with Thingif(y)
Sushant University ties up with IoT-NCR, world's 4th largest open IoT community and Thingif(y) (an angel funded AI & IoT product company). IoT-NCR along with Thingif(y) have launched digital technologies lab where students will get opportunities to work on real time industry based projects and will get exposure to attend all the Seminars and Meets of IoT-NCR for knowledge sharing. Students will have current market insight in Technologies. The training sessions will be conducted under the specific guidelines and expertise of IoT-NCR practitioners.
Bosch India
A Memorandum of Understanding has been signed between Sushant University and Bosch India. An Industry-Academia Collaboration Center has been setup by Bosch at the Campus.
Euinac
Sushant University has collaborated with Euinac to offer a well-structured programme in BTech Computer Science and Engineering with Specialization in Cyber Security, which has a good balance of theory and practical papers. This program includes core subjects as well as new technologies, which gives the students a thorough knowledge of computer science stream in current scenario with a curated and practically intellectual insight into cyber security. According to a recent report by Intel Security in partnership with the Center for Strategic and International Studies (CSIS), the global cyber-security workforce will have over 1 million job vacancies by 2019. The average salary of a Computer science engineer with specialization in cyber security in India is 4,91,088.00 INR as per the survey conducted by PayScale.com (American salary survey website), which is still a lot higher than the average salaries of engineers without a specialization like this.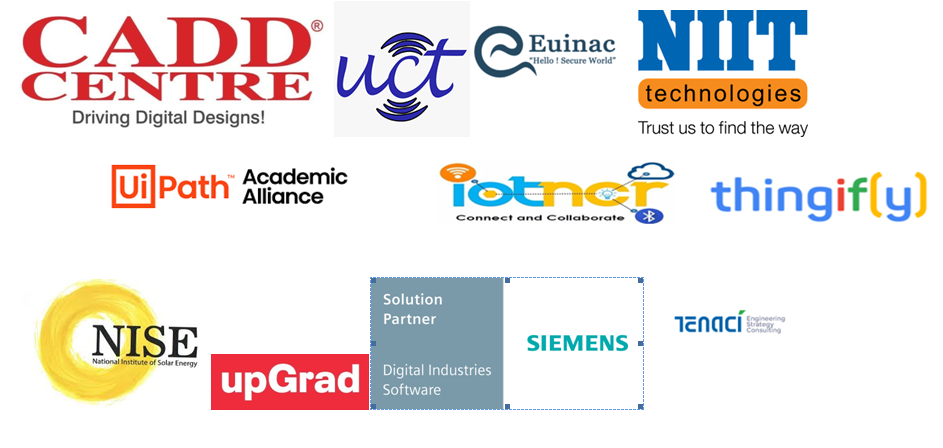 /* */?>