Dr.Chhavi Singla
Principal in Dept of Pharmacy, SHS
Invited as a Panelist in Panel Discussion on a New Normal For Pharmacy Field of Covid-19 Pandemic
Completed FDP on MOOCs and E-Learning Technologies (Online Mode Only) From MDU
Completed 3 Weeks online course on TTT-Teach the Teacher using Flipped Classroom Approach.
Dr. Nadeem Luqman, Associate Professor, Department of Psychology, SHS
Received Certificate of Appreciation by OPTIMUS on the topic of Parametric and Non- Parametric Statistics.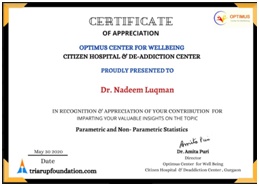 Received Certificate of Appreciation by OPTIMUS on the topic of Research Methodology
Mr. Zeeshan Akhtar Assitant Professor, SHS
Invited Speaker at E learning Platform for Nepal (Mero Eye) (Introduction to Research Methodology) on 10th May 2020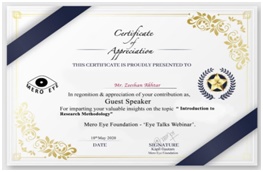 Invited Speaker for E learning platform "For OPtom" (Introduction to Research Methodology)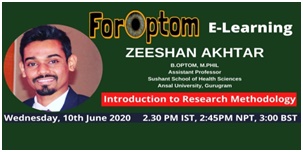 Invited Speaker for Guest Lecture at Sharda University on Optometry Advancements & Research on 17th October 2020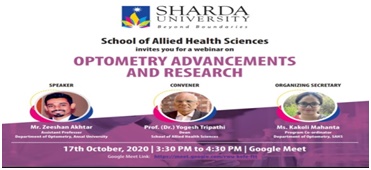 Completed Special Olympics Bharat-Clinical Director Training
Invited Speaker at Several Conference (ERAICON-ERA University Lucknow 2019)
Mr. Phani Krishna Athreya
Assistant Professor, SHS
Invited as a Guest Speaker in OOLS (international platform tie up with Malaysia & UAE optometric associations)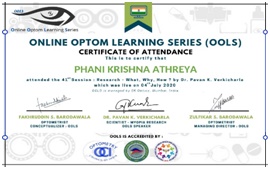 Invited as a Guest Speaker in Indain Optometry Association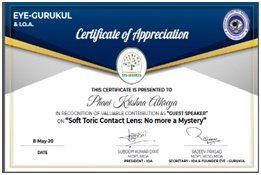 Invited as Guest Speaker by Meru eye Foundation on Eye Talks Webinar on History talking about occupation in optometry.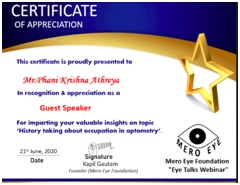 Mr. Saurabh Saraswat
Assistant Professor in Dept of Pharmacy, SHS
Completed below mentioned Online courses from World Health Organization WHO:
i) Severe Acute Respiratory Infections (SARI) Treatment Facility Design
ii) ePROTECT Respiratory Infections (EN)
iii) Clinical Care Severe Acute Respiratory Infections
iv) Covid 19: Operational Planning Guidelines
v) Infection Prevention & Control (IPC) for Novel Corona Virus (Covid 19)
Fulbright Fellowship offered by United States - India Educational Foundation (USIEF) organised by Association of Pharmaceutical Teachers of India (APTI)
Article published on the topic Food Borne Illness for Nav Chetna Publications
Attended more than 20 conferences, seminars, FDPs, Guest Lectures, Workshops & Webinars.
Ms. Shweta Thusoo, Assistant Professor, SHS
Attended the Webinar organized by WHO
Invited for Guest Talk on Online Teaching modalities during Covid-19 by Indian

Confederation of Medical Laboratory Sciences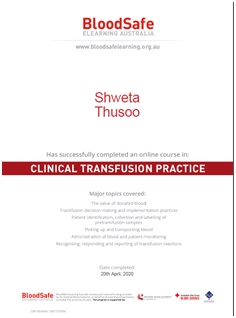 Completed course on Clinical Transfusion Practice &Collection Blood specimens by Blood Safe.
Appreciation certificate received for presenting topic
Comorbidities and its impact on Covid- 19 patients in National Online Webinar series organized by MSDES
Ms. Roshini Sengupta
Teaching Assitant, SHS
Following three articles are published in VisionPlus Magazine
1.Contact lens correction for presbyopia with monovision
2.Diagnosing children with vision problem
3.Diagnosing children with eye problem
Dr. Sumit Grover has been awarded as an Eye Health Hero by IAPB.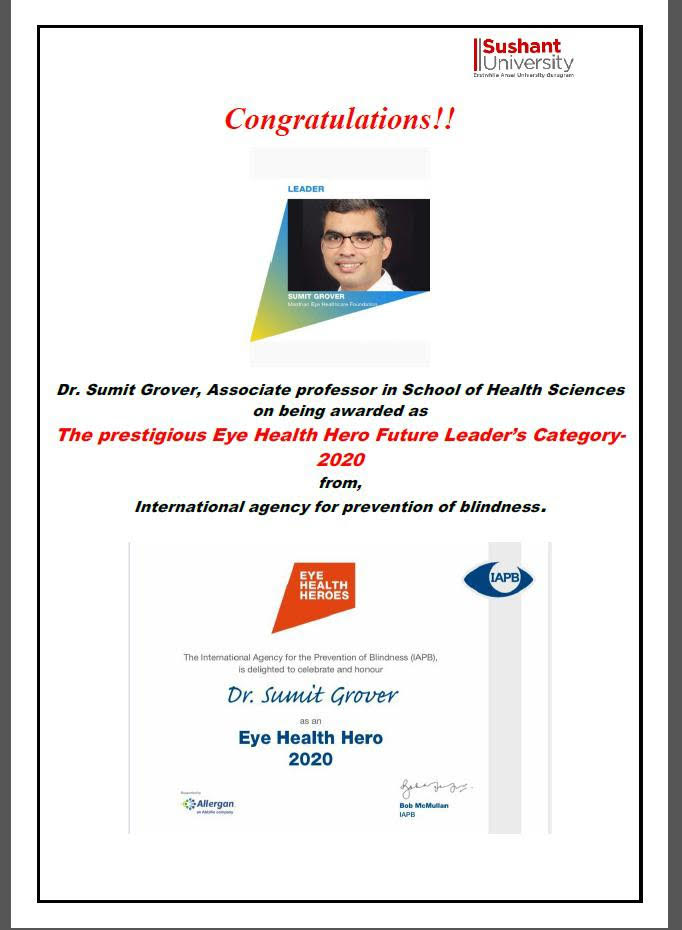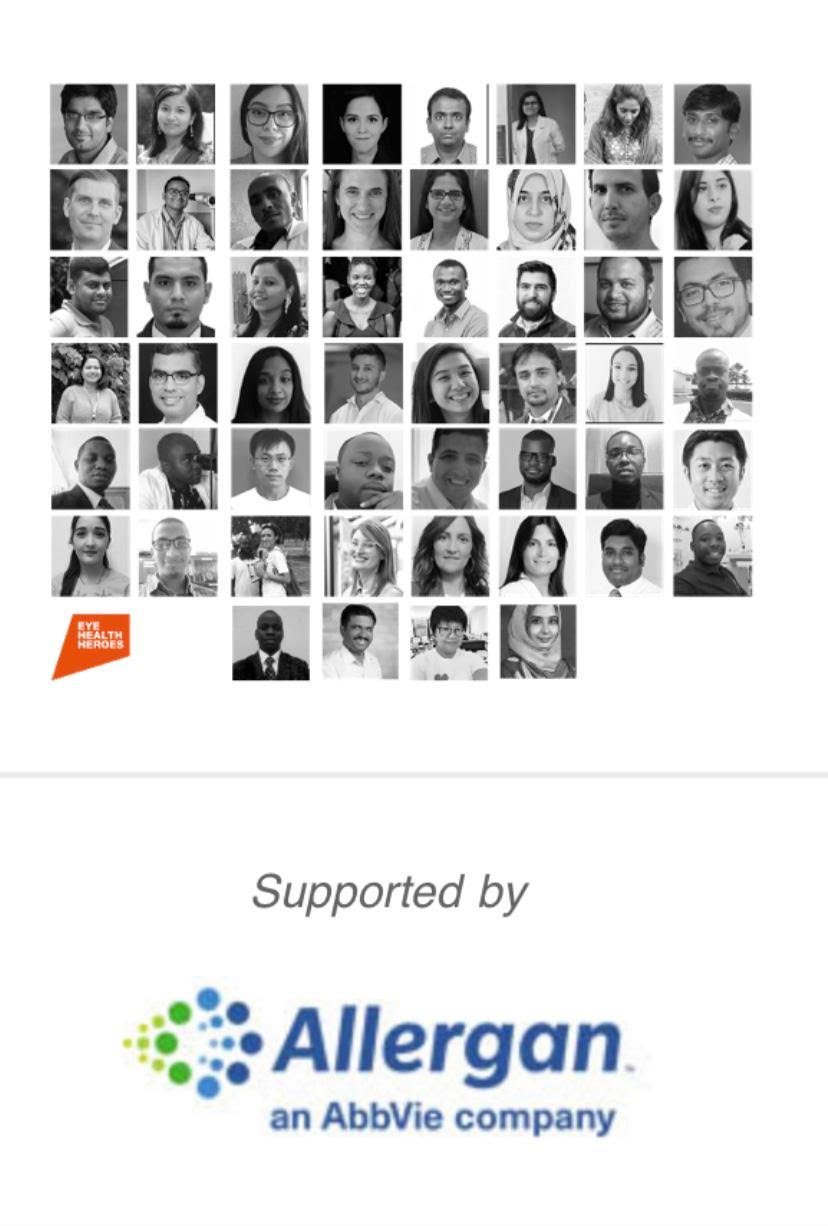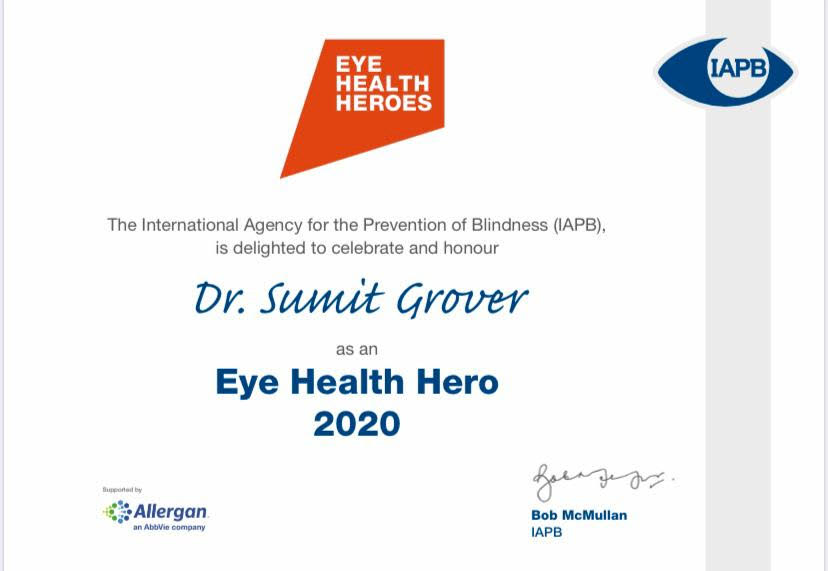 /* */?>