18th - 19th April 2022 9:00 AM onwards
Venue: Wind Tunnel, School of Art and Architecture (E Block, 1st Floor)
Registration Link:- https://forms.gle/YBi6LYXLGWL9x3nq8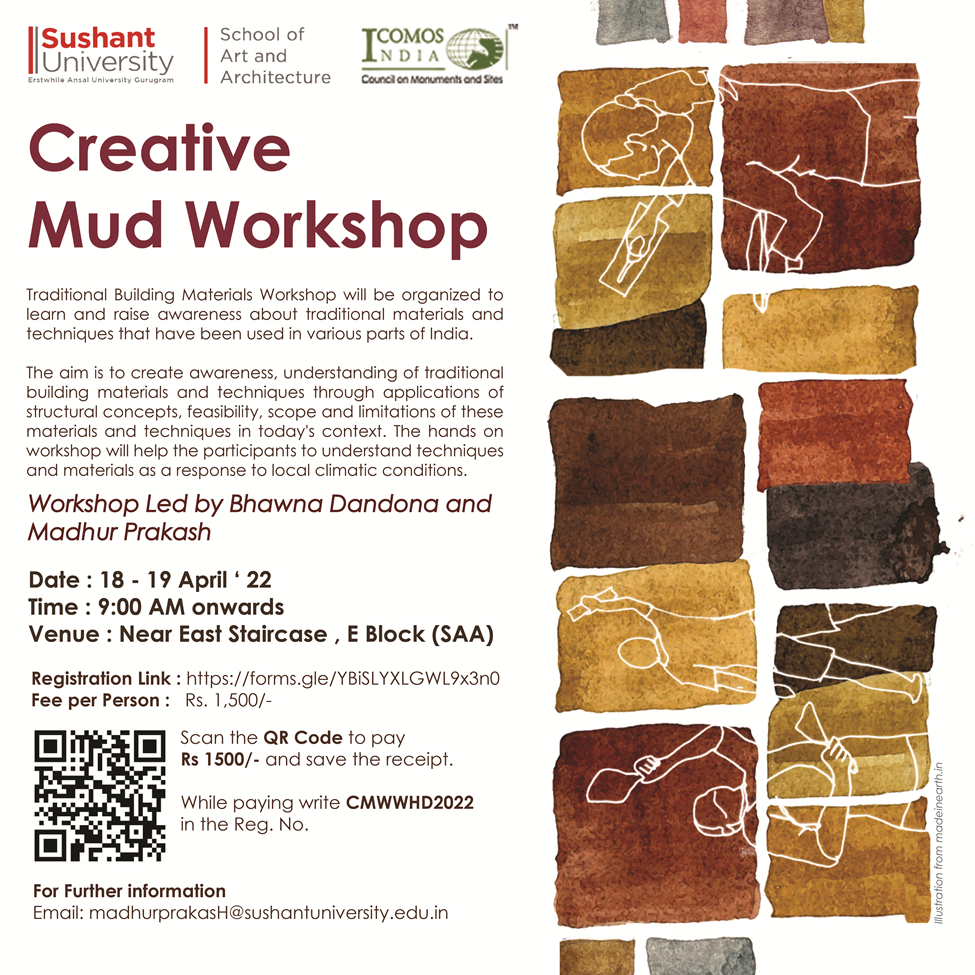 18th -19th April' 22 : Heritage Crafts Workshop
The Indian subcontinent is well known for its age-old traditions and culture which have been passed on from generation to generation majorly through art and craft practices and techniques. As we know, craftsmen derive their inspiration, innate wisdom and skills not from books but from nature and their surroundings. Hence,to continue with the traditional method of learning, we at the School of Design are organising a 2-day workshop with 3 Master Artisans on the following crafts: Woodcarving, Meenakari, Miniature painting on 18th and 19th April 2022, 10 am onwards on A 202/A 203.
This workshop will sensitize students to design interventions in the context of current market needs and trends. It is a good opportunity to learn from National Award Winning craftsmen and gain insight into the working of their minds in the creative spectrum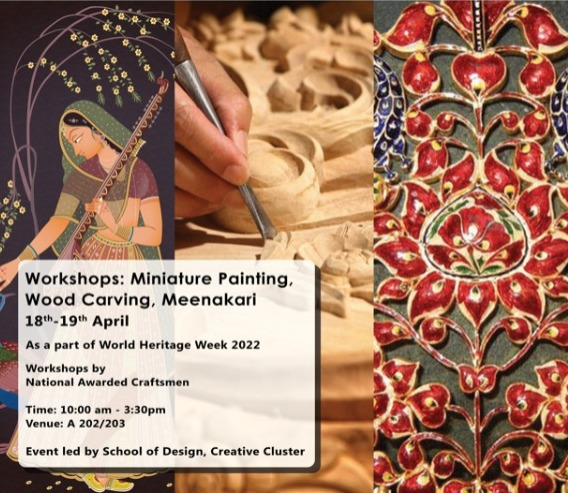 19th April' 22 : Heritage Walk
Farukhnagar: A late Mughal settlement named after a late Mughal Emperor Farukhsiyyar, is located southwest of Delhi and lies on the fringes of Gurgaon. This historical settlement has a few surviving remains of tangible built heritage with wide levels of recognition and ranges from a stepwell " Ghaus Ali Shah ki Baoli" protected by ASI, a palace complex " Sheesh Mahal" protected by State Dept. of Archaeology & Museums. Historically known for its Salt trade and Muddha making industries, Farukhnagar at present strives for its lost identity against the rapid urbanization of Gurgaon. This World Heritage Day, we want to celebrate the historicity and culture of Farukhnagar through a heritage walk to its most significant Late Mughal architecture.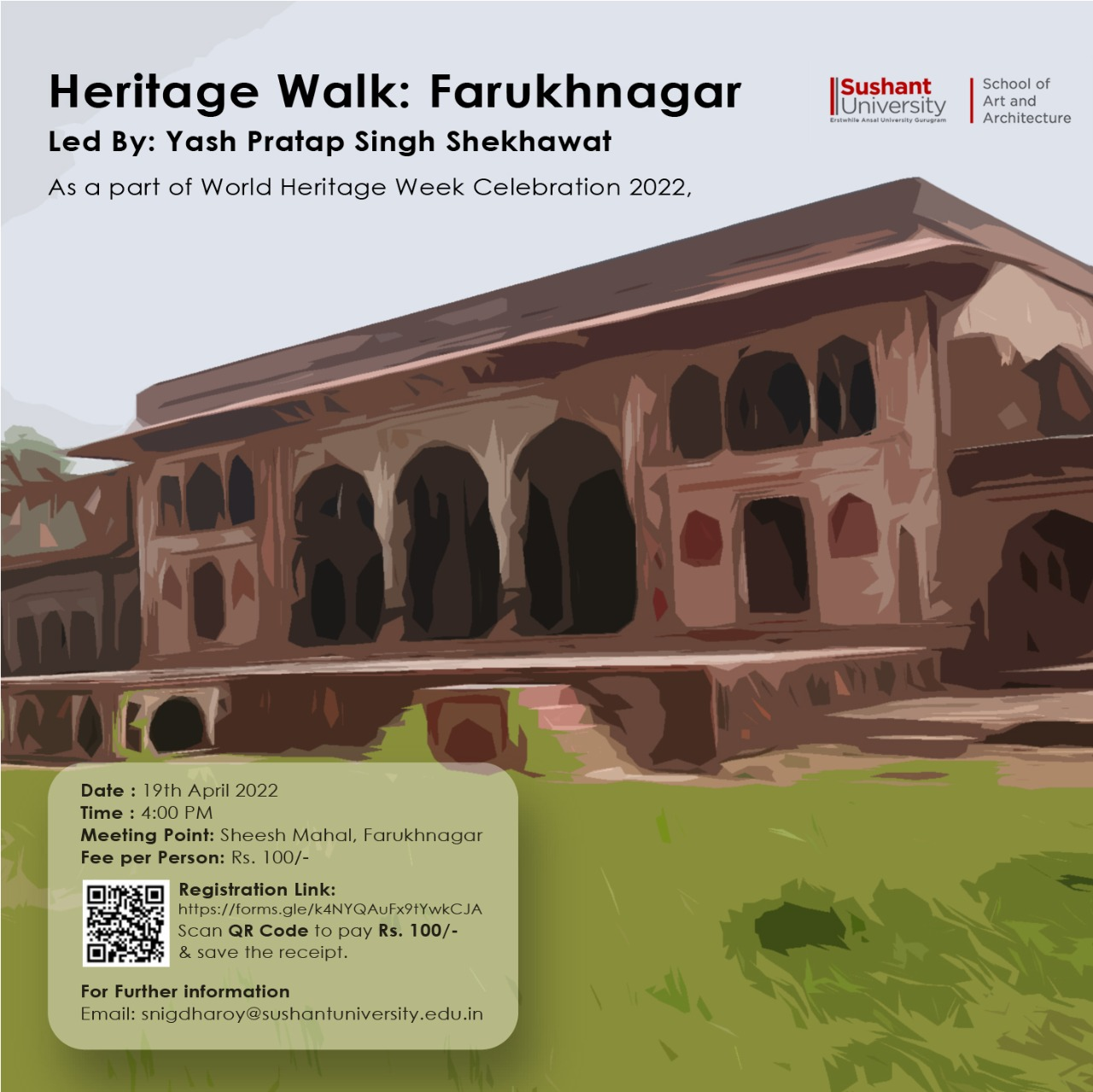 20th April '22: Stakeholders Meet
Stakeholder consultation will be conducted by SPD at the school. Stakeholders are the ultimate owners of all planning processes and projects, thus their cooperation is essential to the project's success. Citizens, public institutions, businesses/industries, civic organisations, professional organisations, training and educational institutions, decision-makers, and others having an interest in the city's development and growth are all stakeholders in a city. As a result, their input is crucial in a municipal development plan. SPD has taken the lead in preparing the CDP for the Bawal - Manesar Investment Region (BMI region), and as part of the studio exercise, a stakeholder meeting with residents, government officials (ATPs and DTPs) from the Rewari region, District Collectors, Municipal Collectors, village sarpanch, and social workers will be held on April 20.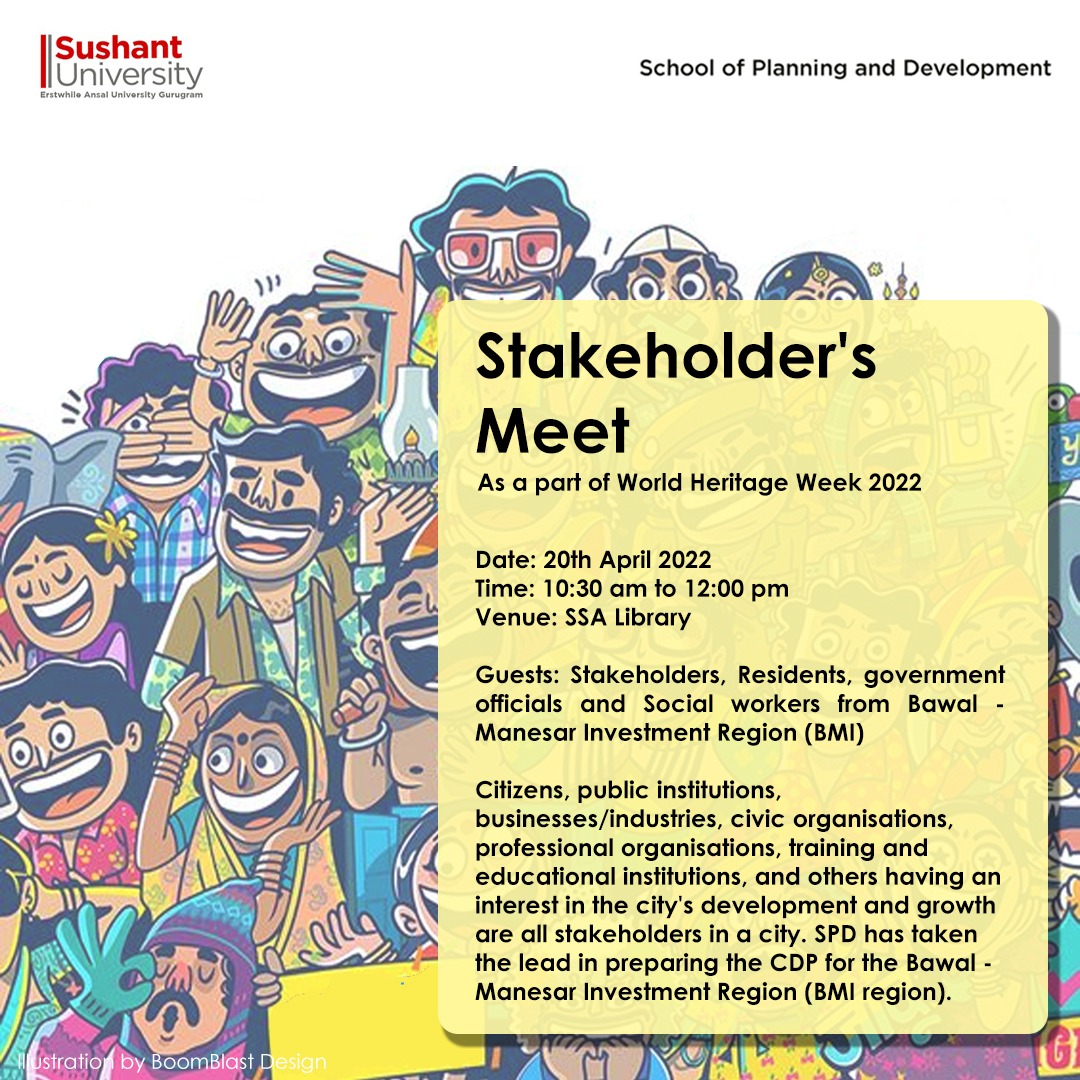 21st April '22: The Importance of Museums
The lecture aims at creating awareness and informing young minds about the importance of museums in our social lives. We live in a digital age where the mind is preoccupied with the virtual world to such an extent that we have totally lost the possibilities of an aesthetic experience derived from the actual look and feel of an artwork. Museums provide us with a great opportunity for experiencing artwork in a physical space, which can be an enlightening and overpowering experience for which there can be no substitute. In addition, museums play a very important role in reminding us of our lost traditions and the value of craftsmanship in artistic creations. Through museums, one can realize the importance of art in building up our cultural identity as well as that of lesser-known traditions along with contemporary art practices in a broader context. Museums by preserving our heritage play an instrumental role in maintaining our cultural identity. The focus will be on the importance of various museums located inside Delhi and on the rich and diverse artefacts that they are preserving.

Time: 11.00 am
Venue: E block, SAA Library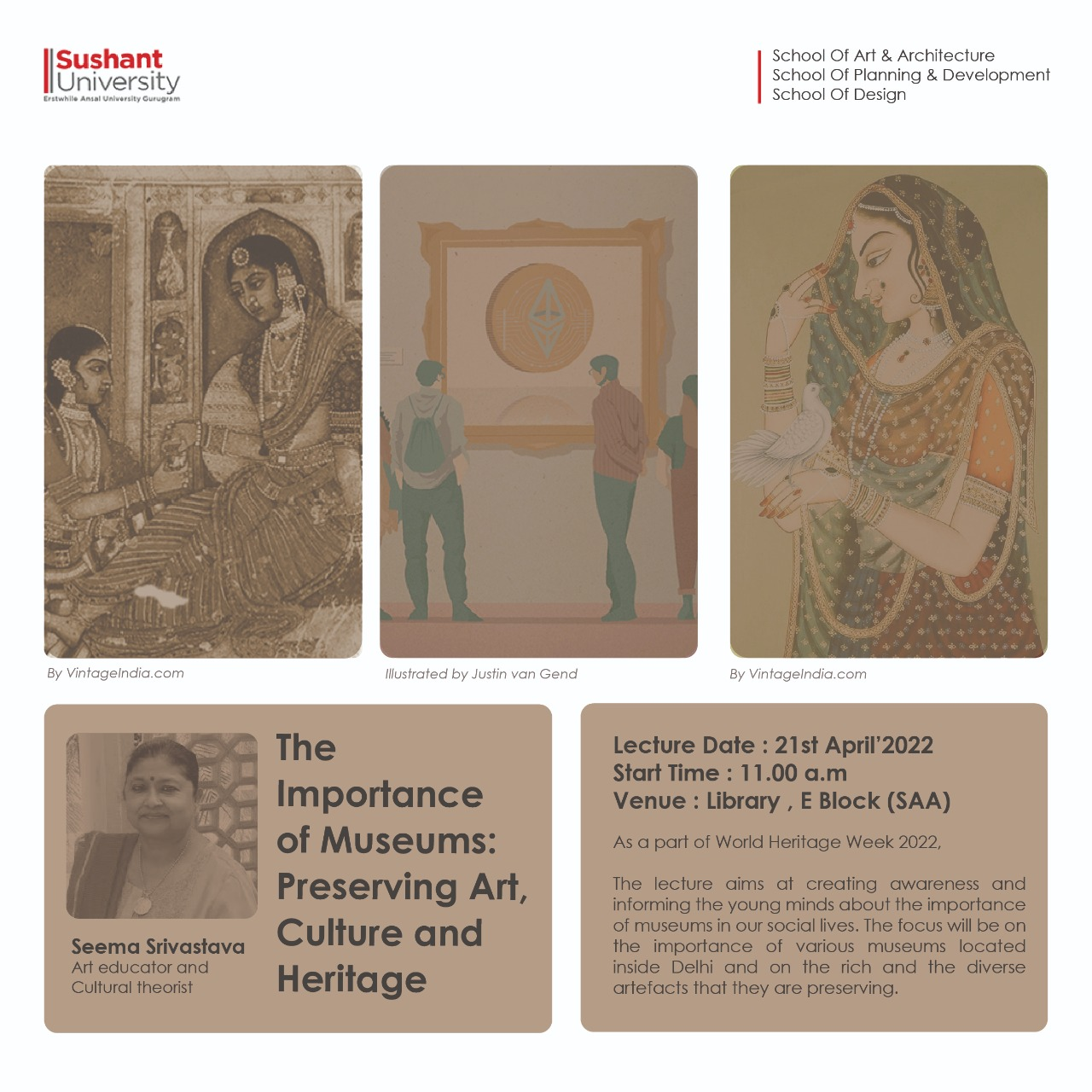 21st Arpil'22: Cultural Feast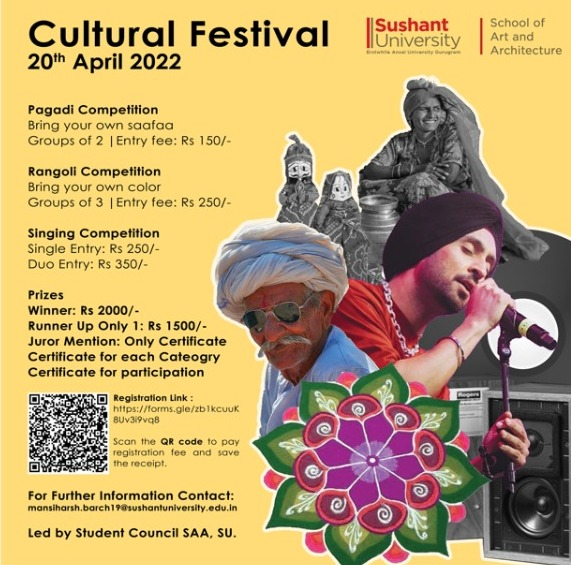 22nd April '22: Aravali Biodiversity walk
Aravali Biodiversity Park: The Aravali Biodiversity Park is 380 acres of wilderness carved out of a 40-year-old mining site in the millennium city of Gurugram. A joint venture between the Municipal Corporation of Gurugram (MCG) and iamgurgaon, the Park is a perfect example of the citizens' initiative to make a difference to their city. This Nature Walk is an opportunity for learning and experiencing the great rich flora and fauna our cities have to offer whether through a designed landscape or forest greens. Such experiences can be exhilarating, fun, and inspirational. We at SAA – M. Arch [Landscape Architecture] are pleased to organise this walk & hoping to give you all this close to nature experience.

Walk Lead by: NITAASHA RANA
Nitaasha is a naturalist at heart and everything that pulls her is connected to nature. Be it gardening, birding, pottery, Landscape Architecture, the books that she read or places that she chooses to travel. Being from Himachal Pradesh and living between nature is part of her daily life, which she always missed in the cities due to which over years she has become a bird watcher to be in the wilderness. Meeting point: Aravali biodiversity park - Entrance gate
Entry fees per person: Rs 50/-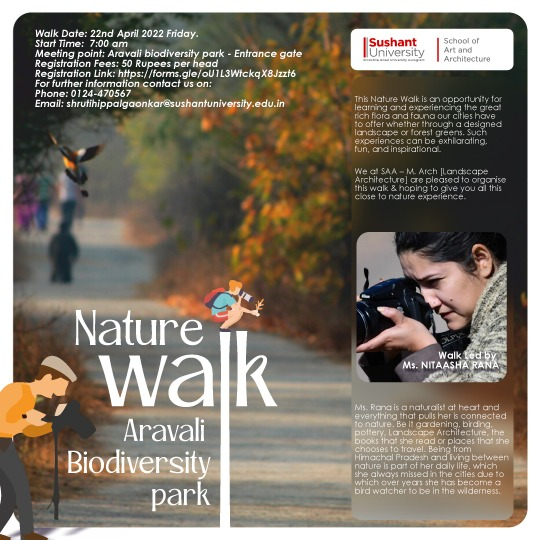 22nd April '22: Heritage and Citizenship programme – 'JAGO'
We are pleased to share that INTACH's Heritage Education and Communication Service (HECS) has launched the Heritage and Citizenship programme – 'JAGO' which aims at promoting heritage awareness and conservation as good citizenship values. On behalf of Creative Cluster, Sushant University and as a part of World Heritage Day celebrations, we extend our invitation to Faculty members and Postgraduate students from your institution to participate in the Heritage and Good Citizenship Training Workshop being held on 22nd April 2022 at our institute, organised by the INTACH Gurgaon Chapter. The participants will receive a certificate and workshop resource material upon completion of the training workshop.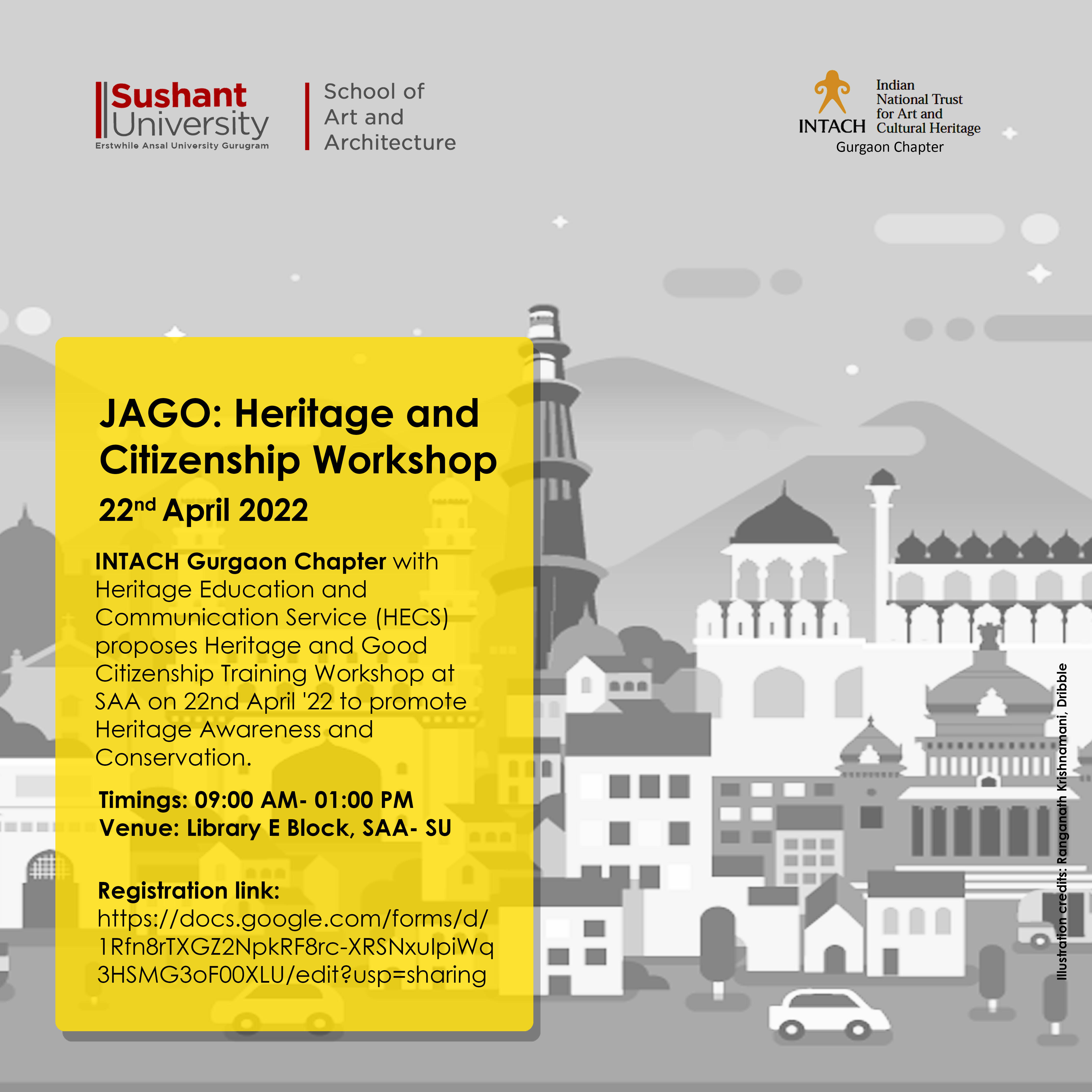 23rd April '22: International Modern, Diplomatic Enclave, New Delhi
A guided heritage tour will be organised by SAA (M Arch Architectural Heritage Conservation and MArch Landscape Architecture course coordinators). Delhi has transformed from a fortified city to a metropolitan with many 20th century developments, including the establishment of an international Diplomatic Enclave. A walk will be curated through the Diplomatic Enclave to gain a better understanding of other countries' identities in the Indian context. The walking tour will reveal hidden histories - the tales that lay beneath, around, and within the buildings, streets, and spaces of this neighbourhood. We will look at the design, architecture, materials, and technology, as well as the importance of architects, and contractors in the construction process. The primary objective is to stimulate people to think deeply and converse about architectural legacy, the significance of these structures, and their contribution to India's growth.